Landscape designing basically refers to planning and designing your backyard, lawn, or garden. Most people in first-world countries living in an independent house would mostly have a lawn. If you wish to design a plan for it, please check through this list of best free landscape design software products.
Free Landscape Design software for Windows 11/10
Usually, landscape design software is meant for professionals and companies and they carry a premium price tag. However, you might prefer to use a free landscape design software if your purpose is merely designing your own backyard. Such tools are perfect for those looking forward to flipping properties.
Showoff.com The Visualizer
My Garden by Gardena
SketchUp
DreamPlan Home Design Software
Plan-A-Garden by BHG
Here's the list of the best free landscape design software:
1] Showoff.com The Visualizer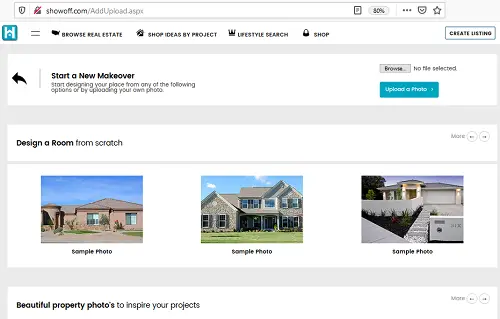 Showoff.com is basically a property selling and renovation website. In the USA, and perhaps many other first world countries, property flipping is quite popular. Prior to flipping property, sellers prefer to renovate their property. Thus, Showoff.com uses a Visualizer app which is a separate section on the website to upload your property's photo and design it. You can do the same for your garden. Check more about it on the website here.
2] My Garden by Gardena
Gardena is a domestic gardening website more specifically for selling gardening equipment. However, one who intends to buy equipment would prefer to prepare a plan for his/her garden beforehand. While the common practice is to make notes for the arrangements on a piece of paper, the My Garden software by Gardena would make it much easier to design your landscapes. The software could be downloaded from here.
3] SketchUp
The SketchUp application can help with 3D modeling of architectural structures including landscapes. While the desktop application is paid, the web version is free for personal use. Though the functions are limited in the free version, it is more than sufficient for designing your garden. You can create the model as a 3D design and print it on paper. Learn more about this application on its official website here.
4] DreamPlan Home Design Software
The DreamPlan Home Design Software makes designing your home fun and easy. While it can be used to design every room and area of your house, the software is even better for landscape designing. Though a little cartoonish, the DreamPlan Home Design Software is perfect for amateurs. Read more about this software at the Microsoft Store here.
5] Plan-A-Garden by BHG
The Better Homes & Garden BHG is an excellent website for learning garden designing. It doesn't teach the technical part but the aesthetic part of designing. Plan-A-Garden is a free app that can be downloaded from the BHG website. You can use the drag and drop feature in the application to check how plants and designs would look on your garden. Check more about the software on the official website here.
Read next: Free Vector Graphics Design software for Windows PC.