Why would one need a software for Keyboard shortcuts? We can find out how to access the shortcuts and use them. But what if we could get more shortcuts than what exists by default? Keyboard shortcut programs are popular because they enable the user to create shortcuts they wished existed. They let you customize keyboard shortcuts according to your typing habits and needs. In this post, we are looking at free keyboard shortcut software that lets you create custom keyboard shortcuts in Windows 10.
Free Keyboard Shortcut software for Windows PC
These ten free keyboard shortcut software will help you customize and change keyboard shortcuts in Windows 11/10. Choose yours according to what suits you best.
AutoHotKey
PS Hot Launch
HotkeyP
HotKeyBind
HotKeyz
ShortKeys Lite
Clavier+
Comfort Keys
WinHotKey Configuration
Shortcuts Map.
1] AutoHotKey
AutoHotkey is a favorite among active Windows 10 users because it has advanced features despite being an open-source software. You can use the hotkeys for both, your keyboard and the mouse. You can also remap all your hotkeys if you need to. The program is straightforward to use; it has a flexible and straightforward syntax. There are some inbuilt commands for you to get used to the program before you start creating your custom shortcuts.
2] PS Hot Launch
This software is not just a keyboard shortcut software but an application launching software as well. With dedicated shortcuts for running applications, this program will help you save time, organize frequently used apps and commands, and group them into relevant categories. There is a favorites menu where you can put all your commonly used apps so that you won't have to look anywhere else at all.
You can download the freeware from here.
3] HotkeyP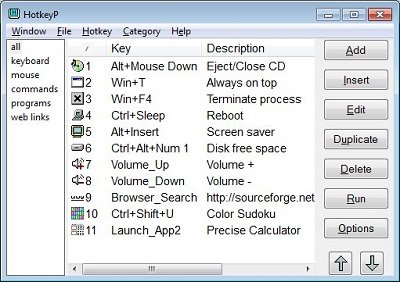 It is one of the most straightforward keyboard shortcut software programs for Windows 10. You can create custom shortcuts for files, directory, apps, and even webpages. You can also use shortcuts for some system actions like Playback control, Control Panel access, deleting temporary files, system shutdown, display on and off, terminate tasks, or resize windows. HotKeyP is arguably the most versatile free shortcuts software, considering the number of functions it offers within the bounds of a straightforward user interface.
The software is available on SourceForge here.
4] HotKeyBind
This software enables you to launch applications, open directory files, and some webpages with the hotkey associated with it. You can also control system actions with this software like power on and off, volume control, or copy-pasting text.
Get the freeware from here.
5] HotKeyz
This software comes with a simple user-interface and many custom shortcuts for categorizing files and directories, accessing them quickly, and more. This app has a Control Panel and system function access. The good thing about this app is with just one click, and you can pause or disable the shortcuts for a specific group and enable it back again. It offers flexibility for your convenience.
Hotkeys software is available for download from here.
6 ] ShortKeys Lite
All the 'shortkeys' on this software only need one or two clicks for use. It will save you an enormous amount of time for elaborate work routines. The Rich Text format of this software helps you stylize the text as well. A useful feature of ShortKeys Lite is that the keys can be case sensitive if you want them to be. This way you can use the 15 free shortkeys for multiple commands.
Download it from here. The free version offers only a maximum of 15 shortkeys.
7] Clavier+
Apart from all the standard functions of a keyboard shortcuts application, like 'directory or file opening,' primary system function access, app launching, and website launching, this software comes with dual recognition for Control, Alt, and Shift keys so that you can assign different shortcuts to either of the keys. The user-interface of this application is straightforward. Despite being free software, you won't even have to install the app because it has a portable version.
You can download it from here.
8] Comfort Keys
This software enables custom hotkeys for keyboard shortcuts that you will find very useful. But in addition to that, it also offers a template manager, with which you can create and insert templates in a matter of just two seconds of clicking. This program also helps control system actions like power options and volume at a single click. As if that was not enough, Custom Keys Pro also gives you an onscreen keyboard with a clipboard manager where you can copy data multiple times for later use.
This freeware is available here. This software has a paid version; however, I have been using the free one without any problem for long.
9] WinHotKey Configuration
WinHotKey makes lives more comfortable. All the hotkeys are available on the main menu itself. The shortcut creation procedure takes very little time. You can add multiple shortcuts with a different combination of the same keys and name them differently so that you know which is which.
10] Shortcuts Map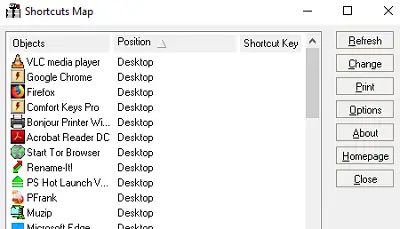 This software does not only create shortcuts for apps, files, webpages, and actions; it also enables access to all the shortcuts ever created in a list form. If you want a simple app for keyboard shortcuts without any fancy features, this is the app you should choose.
Check more about the freeware here.
These are the best free keyboard shortcut software for Windows 11/10. They're all free, so you have nothing to lose. Try them out and keep using the one that suits you best. Happy choosing!