Are you looking for a way to optimize your files by reducing their size on the hard disk? If so, then please read on, this free File Optimizer will interest you, Many times there comes the situation when you have limited space on your disk and you have to delete less important files to replace them with new and important files. But if we reduce the old file size by optimizing it and without touching the behavior of these files, we could gain a considerable space on the hard disk. Thus using this gained space, we can put new files there and thus we don't need to delete old files from our system.
FileOptimizer for Windows 11/10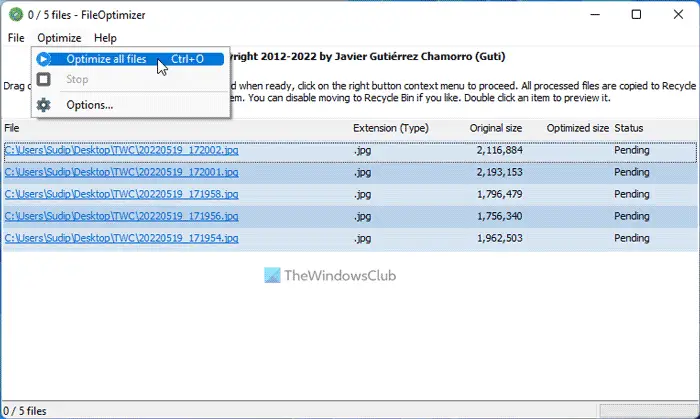 FileOptimizer is a free file optimizer software, which works on the above-mentioned principle. Basically, it supports the most commonly used format for files and uses the file optimization and compression techniques coded inside it, and thus reduces the file size. The utility is so simple and easy to use that a non-technical or beginner to Windows can use it very attractively.
It supports the following file formats:
BMP, DIB, CSS, DLL, BPL, DRV, LZL, SYS, EXE, SCR, GIF, GZ, TGZ, SVGZ, HTM, HTML, MHT, MHTML, XHTML, XML, SGML, ICO, JNG, JPE, JPG, JPEG, THM, JS, JSON, MNG, MP3, OBJ, O, LIB, A, OGG, OGV, CHM, CHS, CHW, DOC, DOT, FPX, MDB, MDT, MIX, MPD, MPP, MPT, MSI, MSP, MST, ONE, OST, PPS, PPT, PUB, PUZ STICKYNOTES, SNT THUMBS, DB, VSD, VST, VSS, XL, XLC, XLM, XLS, XLW, XSF, XSN, DCX, PCC, PCX, EPDF, PDF, APNG, ICO, PNG, SWF, FAX, TIF, TIFF, PTIF, PTIFF, WEBP, AIR, APK, APPX, CBZ, DOCM, DOCX, DOTX, DOTM, DWFX, EPUB, IPA, JAR, MPP, NAR, ODT, OEX, OXPS, PPAM, POTM, POTX, PPSM, PPSX, PPTM, PPTX, PUB, SLDM, SLDX, VDX, VTX, VSX, XAP, XLAM, XLSM, XLSX, XLTM, XLTX, XPS, ZIP, AAI, AVS, FITS, JP2, JPC, HDR, HRZ, MIF, MIFF, MTV, OTB, P7, PALM, PDB, PBM, PCD, PCDS, PFM, PGM, PICON, PIC, PICT, PNM, PPM, PSB, PSD, SUN, VICAR, VIFF, WBMP, XBM, XPM and XWD file formats.
Optimize Files
As we mentioned earlier, the tool is handy to use. You need to download it run the downloaded set up so that it installs the software on your machine. Then run the tool and you'll see the window shown above, where you have to add the files for which you want optimization and click Optimize all files. After few moments, you'll see that all your files are optimized and they have now allotted an optimized size (refer image shown below).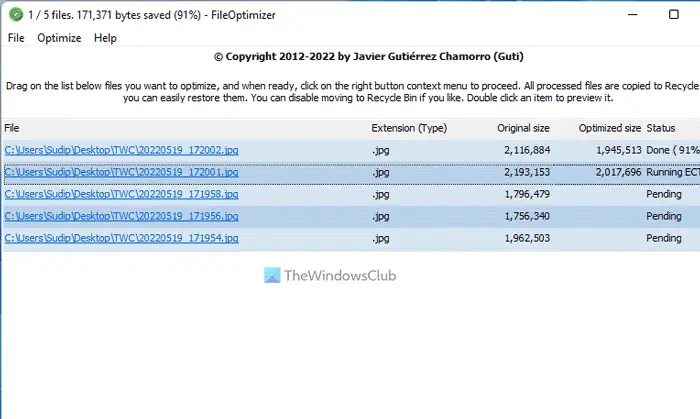 Following are the key features of this smart utility:
Simple program interface.
Several third-party tools integrated in one same tool (plugins).
Easy automation via command-line.
Suitable for home users that need to speed up file transfers no matter if they are in email attachments, P2P or shared upload servers.
Suitable for webmasters to increase the page load speed.
Suitable for web developers to reduce content weight.
Suitable for desktop developers in any platform (Windows, Linux, macOS, …) to reduce distribution sizes and reduce load times.
Suitable for mobile developers (Android, iOS, Windows Phone, …) to reduce distribution sizes and reduce load times.
Suitable for server administrators that could integrate FileOptimizer via command-line.
Suitable for content creators and distributors to reduce content weights.
Is there an optimizer for Windows 11/10?
Although there is no in-built file optimizer for Windows 11 or Windows 10, you can download FileOptimizer. This free application helps you optimize your files on your Windows computer. Whether it is a document, image, video, or anything else, you can use this app to get things done.
How do I use FileOptimizer?
To learn how to use the FileOptimizer, you need to go through the aforementioned guide. It is pretty straightforward to use this app on your Windows 11/10 PC. Whether you have an image, video, audio, or anything else, you can reduce the size of the file with the help of this app.
FileOptimizer free download
FileOptimizer works on Windows 10 and earlier versions too. You can download it first from HERE.