DNS Lookup or Domain Name System Lookup lets you find the IP address of a specific domain name. It also reveals a lot of other details about the domain name. If you need to perform lookup often, I am sharing a few free DNS lookup tools & online services.
Free DNS Lookup Tools & Online services
1] DNS lookup commands for Windows
Windows has an inbuilt command line tool – nslookup. It can be used to diagnose the Domain Name System (DNS) infrastructure. It needs TCP/IP installed on your computer to work. The only drawback here is that it's not as extensive as other tools. Read more on how to use it here on microsoft.come. If you find this bit difficult, Nirsoft has a GUI tool for DNS lookup.
2] NetCrunch Tools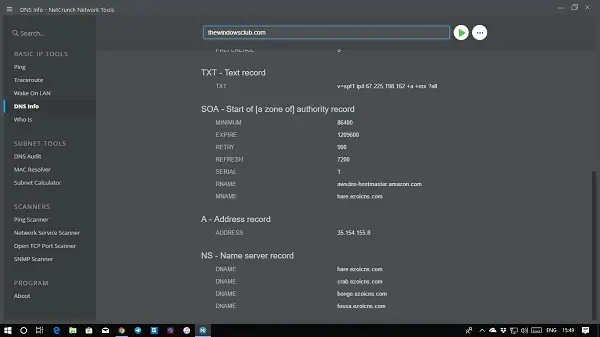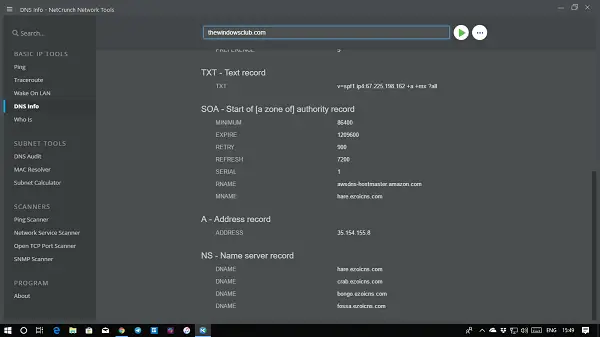 NetCrunch a software that offers WhoIS, DNS Audit, DNS Lookup, and much more. You can use it to for DNS lookup websites and identify DNS settings errors. The tool is also handy for local networking queries.
3] Whois DNS Lookup
It's an online service that offers DNS records queried, include A, AAAA, CNAME, MX, NS, SOA, and TXT. You can further perform an IP lookup, check the RBL (Real-time Blackhole Lists) and do a Traceroute.
4] MxToolbox
It's another online service, but only for checking the status of email-related DNS records, i.e., MX Records. It can also check if a domain or the IP has been blacklisted from sending spam emails. For every record, you can perform a Blacklist check and SMTP test. The record is scanned through various databases.
Read: DNSLookupView is a free DNS Lookup Tool
5] WhatsmyDNS
If you are moving servers, WhatsmyDNS offers live DNS checks for its current IP address and DNS record information. It gives you a clear idea of which part of the world the propagation is complete.  They have servers in almost every part of the world, and the results are generated from everywhere and shared.
6] DNS Query
This online tool can perform a lot of queries for DNS, including ping, traceroute, whois lookup, traversal, ping, Reverse DNS Query, P Whois Query and more.
While we have listed some of the best ones, there are a lot of free DNS lookup tools available on the internet. They also offer monitoring tools which can be useful if you plan to keep a tab on your domain. However, those services are paid.  You will have to choose based on your needs.
Read next: Free Dynamic DNS services.