Free CUDA Video Converter is a video & audio editing and conversion software that helps you convert your movies/music/videos into various formats supported by different devices. This application comes with some great conversion features that let you quickly edit the options and convert the file.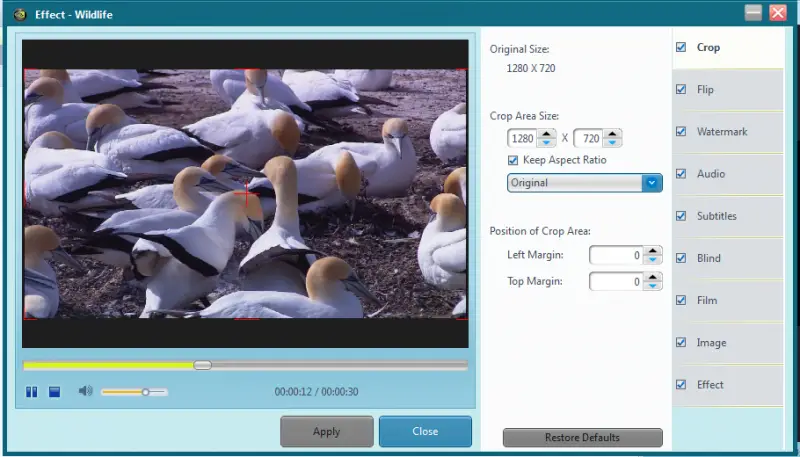 CUDA Video Converter for Windows PC
This video converter application is wholly based on CUDA. CUDA is a computing platform programmed by NVIDIA. GPUs implement CUDA, and this computing technology is relatively fast than others. So you can imagine the speed and efficiency of this video converter.
To start editing a file, you need to open the file in the software. Click on the add files icon in the top menu bar. Once the file is opened, you can clip it out or merge it, convert it and edit it. There are lots of editing options available such as:
Video Cropping
Video Flip
Insert Watermarks
Change Audio
Add subtitles
Blind the Video
Insert Black and White or Old Film effects
Change the brightness, contrast, saturation of the video
Add up to 11 default effects.
These were some features of the video editor that comes in the software. Now coming to other software features such as Clip and Merge – under the clip option, you can cut the desired part of your video and save it in a different place, and in the merge option, you can merge your video with other videos. Settings would be automatically adjusted.
To choose the conversion options, click on the drop-down menu under the profile column and select the format you would like to convert the video. There are lots of device-based profiles available. Some of them are for Windows Phone, iPad, iPhone, iPod, Blackberry devices, etc. There are other profiles available too. Some of them are – AVI, MKV, and MPEG-4. There are yet more profiles available, but you need to pay and upgrade to enjoy the benefits of those profiles. For an average user, these many profiles are sufficient, but if you have a variety of gadgets, you may consider upgrading the application.
Free CUDA Video Converter download
Free CUDA Video Converter is an all-in-one video converter with some exciting features. It converts the videos faster and efficiently and is a time saver. Click here to download Free CUDA Video Converter.
Can I convert low resolution to high-resolution video?
You can do it, but the overall quality will degrade, and the software may add thick black frames around it. Technically, you cannot convert a low-quality video to high quality and make it look better. The quality will also depend on the compression method used to create a video and the video's algorithm.