Microsoft Flight Simulator is one of the most hyped games of recent times. It has been loved and appreciated by gamers all around the globe, especially for its realistic environment. However, it has been reported that for some users, Flight Simulator is not starting, working, or playable.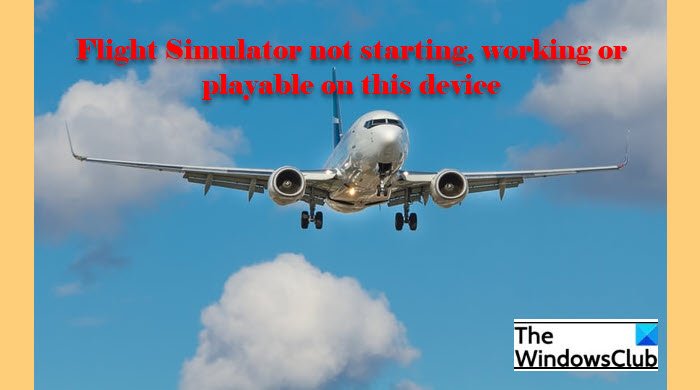 Why won't Microsoft Flight Simulator work on my computer?
There are multiple reasons for this issue. But more often than not, it has something to do with your Graphics. You first need to check whether your computer meets the requirements needed to run the game. Then you need to check if the Graphic driver installed on your system is outdated. You may face this error, in either of the two cases.
However, there are some other reasons, so, we have covered every possible solution in this article.
Flight Simulator not working, launching, loading or playable on this device
If Flight Simulator keeps crashing, pausing, or is not working, launching, loading, connecting to the server or playable on this device, you first need to check for updates and install all the updates that come your way. After updating your system, try the following suggestions. Make sure to do it in the given order; it will save you time.
Update your Graphics Driver
Reset the Game
Run Windows Store Apps troubleshooter
Reinstall Flight Simulator
Check System Requirements
Before you begin, restart your PC and router and make sure that you have a strong network connection.
Flight Simulator keeps crashing or pausing
1] Update Graphics Driver
The first and foremost thing you need to do is to update Graphics Drivers. You need to update both the built-in graphics and the Graphics Card that you may have. After updating, check if the issue persists.
2] Reset the Game
Sometimes, the issue can be because of wrongful setting changes. So, you need to reset the game settings and see if the issue is fixed. To do that, follow the given steps.
Open Settings by Win + I.
Go to Apps, look for Flight Simulator, select it and click Advanced Options.
Now, click Terminate > Reset.
Wait for it to complete the process and hopefully, the issue will be fixed.
3] Run Windows Store Apps Troubleshooter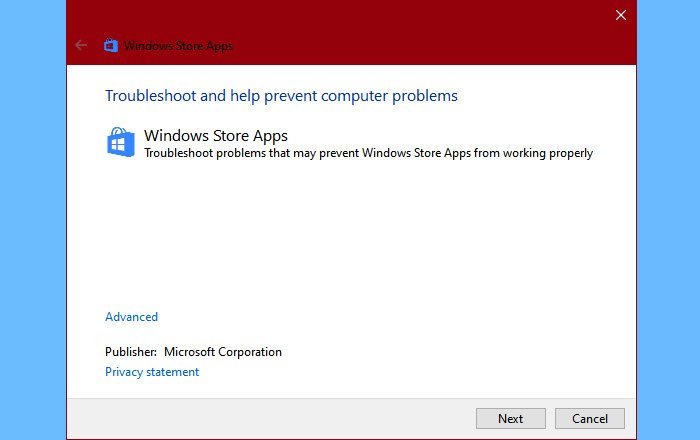 Windows Store Apps troubleshooter is a built-in service of Windows that allows you to fix problems with apps from the Windows Store. So, to do the same, you can follow the given steps.
Open Settings by Win + I.
Go to Update & Security > Troubleshoot > Additional troubleshooters.
Click Windows Store Apps Troubleshooter > Run the troubleshooter.
Wait for the process to complete and resolve the issue for you.
4] Reinstall Flight Simulator
If nothing works, try reinstalling the game. You can open Settings and click Apps > Flight Simulator > Uninstall.
Now, redownload and reinstall the game and check if the issue persists.
Hopefully, you are able to fix the issue with Microsoft Flight Simulator with these solutions.
5] Microsoft Flight Simulator System Requirements
The following are the System Requirements to run Microsoft Flight Simulator.
Operating System: Windows 10/11 64-bit
Processor: Intel i5-4460 or AMD Ryzen 3 1200 (Minimum),  Intel i5-8400 or AMD Ryzen 5 1500X (Recommended).
Memory: 8GB (Minimum), 16GB (Recommended).
Graphics: NVIDIA GTX 770 or AMD Radeon RX 570 (Minimum), NVIDIA GTX 970 or AMD Radeon RX 590 (Recomended).
Storage: 150GB
You need to make sure that your computer is compatible. If it is not, you should upgrade your PC.
If you don't know your system's configuration, just open Run by Win + R, type "dxdiag", and click Ok. There you can see your computer's configuration and check if you need to upgrade it.
Read Next: Play Microsoft Flight Simulator game in your Browser.