You can now play your favorite Microsoft Flight Simulator game in your browser. Microsoft Flight Simulator is one of the most popular and loved games but only for those who own the highest-end PC hardware, great bandwidth, and storage. Thanks to software engineer and blogger Sebastian Macke that every fan can now enjoy the game right in the web browser.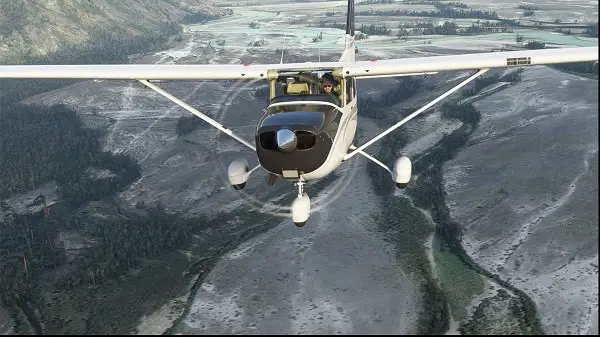 Play Microsoft Flight Simulator game in Browser
Macke has created a Github.com page that lets you play the earlier versions of the game, all in your browser using your keyboard as controls. He has named it FSHistory where you can play and enjoy Microsoft Flight Simulator versions 1982, 1984, 1988, and 1989.
All four versions are compatible with the popular web browsers and you can use the keyboard and mouse to control the flights. The best part is that you can also run them on your mobile browser, a PC keyboard will give you a better experience though. If you have played the newer versions of Flight Simulator you might not really like the graphics here but then again it can be played right in your browser.
The controls with the keyboard are pretty simple where the arrows work as the steering, F1 & F4 are for the thrust, and F5 & F8 are for flaps. For gear, view, and options you can use G, S, and A, B, C keys. There are four separate tabs to select the version of the game you want to play.
Even though the graphics have, undoubtedly, advanced a lot over the period, the earlier versions were equally enjoyable. Not to mention that MS Flight Simulator is best known for its best graphics and realistic flight experience. The game offers traveling the world in amazing detail with over 2 million cities, 37 thousand airports, real mountains, trees, roads, rivers, traffic, animals, and a lot more.
Microsoft has launched the latest version "Microsoft Flight Simulator 2020" recently and the fans have gone crazy. There couldn't be a better time to release it when the Covid-19 has dampened the real-life travel. The fans can now travel with the game without worrying about any pandemic, no matter where they want to go and how far they want to fly.
Well, not the latest version but FSHistory will let you experience the history of the game at least. It is an open-source program written by Macke in the C language and it lets you play the first four versions of the game directly in your browser. If this excites you, head over to the Github Page and start flying.