NVIDIA GPU has been one of the best for gamers. It gives their computers the ability to play heavy games without any errors. Even though there are some unexpected errors, you can fix them easily. Some users are reporting that the game quits unexpectedly with NVIDIA error code 0x80030020. In this guide, we have a few solutions to fix it.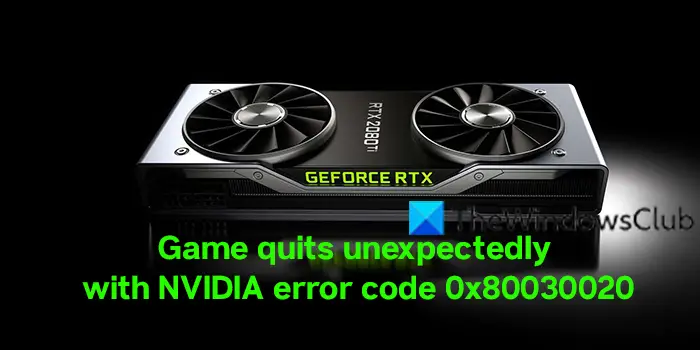 What is NVIDIA error code 0x80030020?
We see The game quit unexpectedly. Try playing it again message when we see the NVIDIA error code 0x800300200 while playing games.
The error can be caused due to,
Corrupted or outdated graphics drivers
Failed GeForce processes
Corrupted GeForce experience files
Let's see how we can fix the error.
Fix NVIDIA error code 0x80030020; Game quits unexpectedly
When the game you are playing quits unexpectedly and it shows NVIDIA error code 0x80030020, you can fix it in the following ways.
Relaunch GeForce Experience
Allow all GeForce Experience related services
Update NVIDIA graphics driver
Reinstall GeForce Experience
Let's get into the details of them.
1] Relaunch GeForce Experience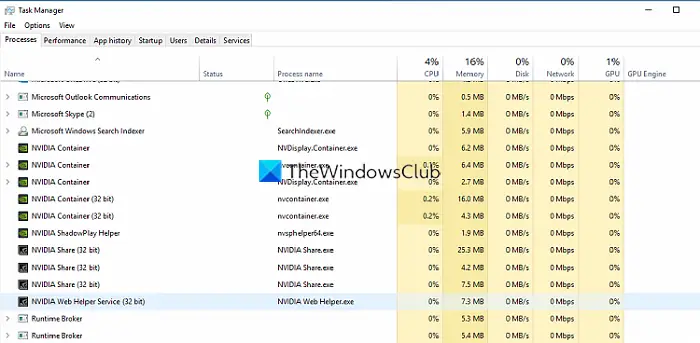 The error is caused due to a disturbance in the NVIDIA GeForce Experience. You need to end all the services of NVIDIA and relaunch GeForce Experience. Open Task Manager and end all the NVIDIA processes by right-clicking on them and selecting End task. Then, launch NVIDIA GeForce Experience and see if it has fixed the error.
2] Allow all GeForce Experience related services
GeForce Experience has many related services for it to run correctly. You need to allow all the related services to fix the issue. To do so,
Open Run command
Type Services.msc and press Enter
Find NVIDIA Telemetry Container in the list of services and right-click on it
Then, select Properties
Click on Log On tab
Check the button beside Allow service to interact with desktop
Then, click on the General tab and make sure the Status is set to Running. If not set it to Running.
Click on Apply and then OK
Likewise, find NVIDIA Display Container LS, NVIDIA NetworkService Container, NVIDIA LocalSystem Container in the Services list and make sure they are running.
3] Update NVIDIA graphics driver
If the issue is still not fixed you need to update the NVIDIA graphics driver as the error might also be the result of corrupted or outdated graphics drivers. To update graphics drivers:
4] Reinstall GeForce Experience
If the error is not yet fixed, you need to fix it by uninstalling GeForce Experience and installing it again after downloading it from the official website. To uninstall GeForce Experience,
Open Settings app
Click on the Apps tab
Select Apps & features
Find GeForce Experience and click on the three-dot button beside it
Then, select Uninstall and follow the on-screen wizard to complete removal.
After that download, GeForce Experience from the NVIDIA website and install it.
This is how you can fix the NVIDIA error code 0x80030020 where the game you are playing quits unexpectedly.
How to fix Game quitting unexpectedly with NVIDIA error code?
There are different ways to fix the game quitting unexpectedly with the NVIDIA error code. You need to understand that the error is related to the NVIDIA graphics driver and GeForce Experience. To fix it you need to implement the above fixes.