Comments play a major role in the engagement of your social media posts, be it an Instagram or Facebook post or a YouTube video. It's the comments on your content which helps your audience interact with you.
So what do you do when your YouTube comments stop loading or your replies on the comments are not loading, or the loading icon just keeps spinning? Has this ever happened to you? Don't worry, we are covering this topic here in this post today.
YouTube comments are not loading
Check your internet connection
Reload/refresh the page
Check your extensions
Check your YouTube channel settings
Delete cache and clear browsing data
Well, there can be many different reasons for this error and each reason has a different fix. Let's start from the basics-
1] Check your internet connection-
This is one of the most common errors. If you are having a slow or intermittent internet connection, the comment section of the YouTube channel might not load properly. You may see the comments left by your viewers but your replies might not load. Check your internet connection, restart the connection, and try again. This should work.
2] Reload/Refresh The Page
Try reloading the video page, this also fixes this 'comments not loading' error often. You can either click on the reload icon or can also press the F5 key on your keyboard to reload the page. Try this and see if the comments are not loading.
3] Check your extensions
Browser extensions help us make our work easier, but sometimes some of the extensions can create problems. Sometimes the extensions sitting in the browser get corrupted and that can cause this error. There are three fixes to this solution-
See if you have recently installed any new extension, disable it and try loading your YouTube video page again.
Open your extensions and see if there is any corrupted extension there. You will get the option to Remove or Repair the extension. If you are not using that extension, it is better to remove it but if it is a useful one, Repair it as soon as possible. Check your YouTube video page and see if the comments section is loading now.
Open the YouTube video page in incognito mode. When you open any page in incognito mode, all the extensions are disabled automatically and if the problem is due to some extension, your YouTube video page will load correctly with all the comments and replies.
4] Check your YouTube Channel Settings
Your YouTube channel settings have an option to Allow or Disallow comments on your video. Check if you have by mistake disabled the comments on your channel.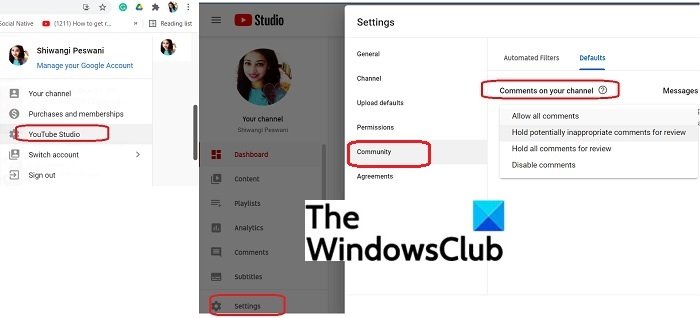 To check the comments settings-
Open your YouTube channel and go to YouTube Studio.
Click on Settings in the left panel and go to the Community section.
Check the settings under the section 'Comments on your channel'
5] Delete Cache and Clear Browsing Data
Clearing cache and cookies improve the browser's performance. It can actually significantly improves your browsing experience. An error like runtime errors, buttons or tabs missing or not loading properly on a website, etc can be solved by clearing the cache and browsing data.
To clear the browsing data on Google Chrome- type 'Clear Browsing Data on the address bar and it will directly take you to the settings page. Select All time from the dropdown menu and click on Clear Data.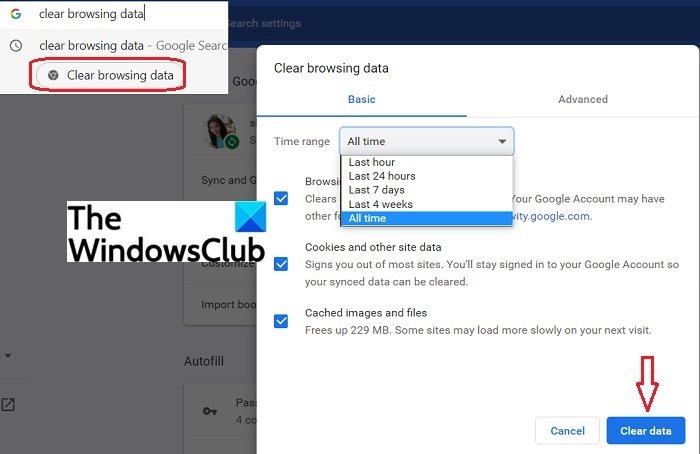 To clear cache in Microsoft Edge-
Go to Settings and more  > Settings  > Privacy, search, and services.
Go to Clear browsing data and click on Choose what to clear.
Select a time range from the Time range drop-down menu and the types of data you want to clear.
Select Clear Now.
To clear cache in Mozilla Firefox-
Click the menu button and select Settings.
Select the Privacy & Security panel.
In the Cookies and Site Data section, click Clear Data.
PS: Make sure to subscribe to TheWindowsClub Video Channel for the best in the world of Windows.
Why do my YouTube comments disappear?
It is possible that you have mistakenly disabled the comments on your channel. Go to your YouTube channel, open YouTube Studio > Settings > Community > Check comments settings in the dropdown menu.
Why can't I see my YouTube comments?
Check for the issues mentioned above and try the given fixes. You will possibly start seeing your YouTube comments again. If none of the above-mentioned fixes works for you, contact YouTube Help.
How do I email YouTube support?
Go to support.google.com/youtube and sign in.
Scroll down and go to the "Need more help?" and select Contact us.
Follow the instructions to email the YouTube Support team.
Why are my YouTube comments marked as spam?
Normally the YouTube channel owners keep their comments settings in a way that no inappropriate comment gets approved. Check if your comments contain any inappropriate terms also if you are repeatedly posting the same comments on some videos, YouTube may consider it as spam.
Hope this helps.