If you see white blank icons on Windows 10 Desktop, then it's because the OS cannot load the icons attached to those programs and files. Windows maintains a database of icons which is used often instead of loading everything from the source. If that Icon Cache gets corrupted, then you will see these types of blank icons in Windows. In this post, we will share some suggestions on how you can fix the problem.
It may seem like a minor issue, especially with many who don't keep anything on the desktop; the user experience is annoying. If you don't have a shortcut on the taskbar, and you thought of launching from the Desktop, this will make you feel uncomfortable.
Fix White Blank Icons on Windows Desktop
Follow these methods to resolve the problem.
Delete IconCache
Manually assign a new icon
Reinstall Application or Software
You may need admin permission for the command prompt solution.
1] Delete IconCache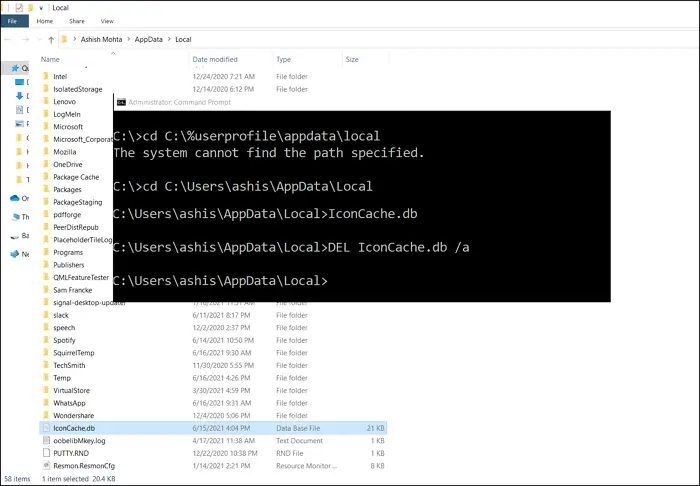 Windows maintains a database for all icons in the IconCache.db file. It is located at C:\%userprofile%\AppData\Local. You can delete it using the command line if it doesn't work directly from Windows Explorer.
To rebuild the icon cache in Windows 10, you will have to follow this procedure:
Open Command Prompt by typing cmd in the Start menu, and then choose to run as admin.
First, navigate to the Local folder.
cd C:\%userprofile%\AppData\Local
Once here, check if you can find the iconcache database by typing its name
Now that you know it is there type the following to delete
del IconCache.db
Right-click on the taskbar and switch to the Processes tab
Locate Windows Explorer, right-click and choose to restart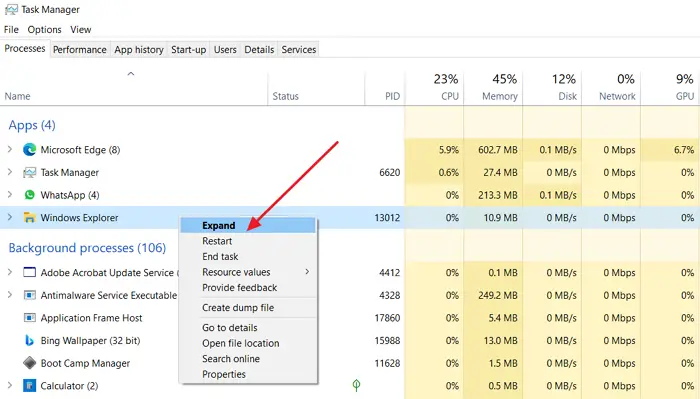 Next, you will have to navigate to the following folder:
C:\Users\%username%\AppData\Local\Microsoft\Windows\Explorer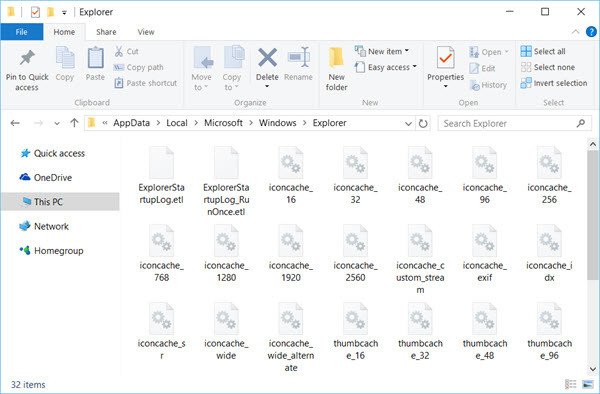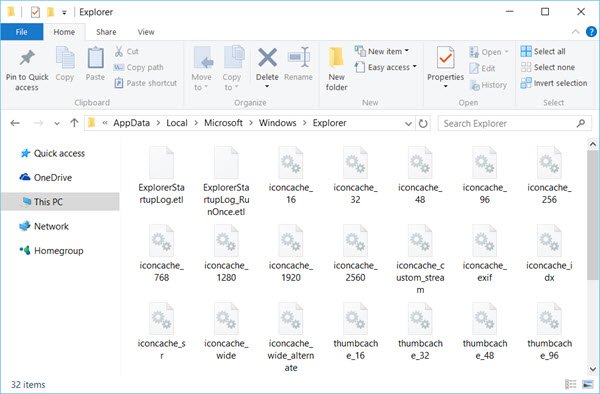 Here you will see a lot of files like iconcache_32.db, iconcache_48.db, iconcache_96.db, iconcache_256.db, iconcache_1024.db, iconcache_1280.db, iconcache_1600.db, iconcache_1920.db, iconcache_2560.db, iconcache_exif.db, iconcache_idx.db, iconcache_sr.db, iconcache_wide.dd, iconcache_wide_alternate.db, etc.
Delete them all to purge and rebuild your icon cache in Windows 10.
This will force Windows to refresh iconcache, and remove the white blank icons. Refresh the Desktop, and the icons should be good.
Alternatively, you may want to use Thumbnail and Icon Cache Rebuilder, which lets you purge and rebuild Thumbnail & Icon Cache in a click.
Read: Desktop icons rearrange and move after reboot.
2] Manually assign a new icon
Windows Personalization allows you to change the icon of any shortcut or icon on the desktop.
Right-click on the icon, and then select properties.
Then click on the change icon.
It will then open another window that will show the list of icons available for that program and other icons.
Please select any of them, and then click on the ok button.
Apply the changes, and white icons should be missing.
Read: Desktop Icons not working.
3] Reinstall the Program or Software
If a particular application of which the icon is all white, it is possible that the program is not available on Windows. Double-click on the icon will reveal the problem. In this case, the straightforward way is to install the application icon and refresh the icon.
Read: Windows 10 icon spacing messed up.
Missing icons on Windows is not something serious and happens from time to time. These solutions make sure you get them or replace them with an alternative icon, so the user experience is not spoiled. I hope the post was useful, and you were able to fix the white blank icons on Windows 10 desktop issue.
Now read: Desktop icons slow to load.