In this post, we will show you how to fix Backup and Restore Error 0x80070057, An internal error has occurred, The parameter is incorrect on a Windows computer. If you are facing any issues, where when you try to restore or backup files using the Backup and Restore Tool, then this post may help you.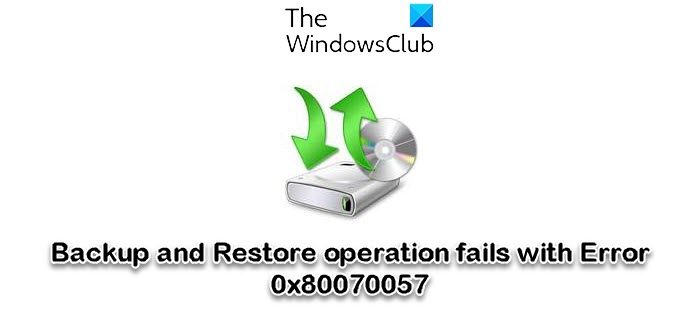 There may have been times when you may have tried to restore files or system backups by using the built-in Backup and Restore tool via Control Panel. While most may have gone smoothly, maybe there have been instances where the restoration operation may have failed.
Backup and Restore operation fails with Error 0x80070057
This situation could probably arise if your drive is corrupt. When such a backup or restore operation fails, you could get one of the following error messages:
An internal error has occurred: The parameter is incorrect: (0x80070057)
OR
System Restore did not complete successfully. Your computer's system files and settings were not changed. An unspecified error occurred during System Restore. (0x80070057).
The possible reason could be that the drive might be corrupt.
Try the following suggestions:
1] Change the decimal symbol setting
Open Control Panel
Click Clock, Language, and Region, and then click Region and Language.
Click the Formats tab, and then click Additional settings.
In the Decimal symbol field, type . (dot), and then click OK two times.
Restart the computer.
2] Use Registry Editor
Open Registry Editor and navigate to the following key:
HKEY_LOCAL_MACHINE\SOFTWARE\Policies\Microsoft\System
On the Edit menu, point to New, and then click DWORD Value.
Type CopyFileBufferedSynchronousIo, and then press ENTER.
Right-click CopyFileBufferedSynchronousIo, and then click Modify. In the Value data box, type 1, and then click OK.
Related: The system image restore failed: 0x80070057.
3] Apply Hotfix
You might want to download and install a hotfix from Microsoft. You will have to visit KB2569601 and request the Fix374032.
Finally, to resolve this issue, you may also retry the Restore operation after running chkdsk /R on this disk.
Read next: Windows Backup Unspecified error 0x80004005.