If Phasmophobia is eating a lot of your resources and you want to know how to fix it, then you are at the right place. In this article, we are going to see how to fix the issues of high CPU usage for Phasmophobia on your Windows 11/10 PC.
Many users are experiencing very peculiar behavior, according to them, Phasmophobia was working fine as an early access game, but then after an update, it started eating a lot of resources. Because of this, the game, as well as the computer, starts lagging, heating, and the game become unplayable. The temperature can also increase.

Phasmophobia high CPU usage and temp on PC
If you are experiencing Phasmophobia high CPU usage on PC, then you can use the solutions given in this article.
Close all other Programs
Use High Graphics
Use High-Performance Mode
Update Graphis Driver
Change In-game Settings
Let us talk about them in detail.
1] Close all other Programs
If you are seeing high CPU usage, chances are you don't have enormous RAM, so, you should always clear all the apps that are running in the background before opening the game. We recommend you check the Task Manager(Win + X > Task Manager) and see if there are any such programs. Right-click on them and select End Task.
2] Use High Graphics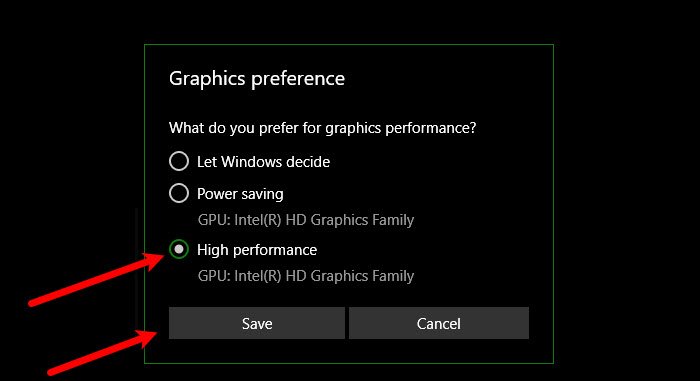 Phasmophobia is not a light game and sometimes you need to push your graphics to get the most out of it. Fortunately, there is a way to do the same in Windows, so, to set the Graphics Preferences to High Performance, use the following steps.
Hit Win + S, type "Graphics Settings", and click Ok.
Now, if you can't see your game, click Browse.
Go to the location where you have stored the game, which usually is "C:\Program Files (x86)\Steam\steamapps\common", and select the .exe file.
Once, they are in the list, click Browse.
Select High Performance and click Save.
Now, retry launching the app and see if the issue persists.
3] Use High-Performance Mode
High-Performance mode is there for you when you need to do something CPU and GPU extensive without worrying about the Power. To enable it, you have to follow the given steps.
Right-click on the Battery icon from the Taskbar. Or, you can open Control Panel and paste 'Control Panel\All Control Panel Items\Power Options' in its Search bar.
Select High performance plan and close the Control Panel,
Now, restart your computer.
Hopefully, this will fix the issue for you.
4] Update Graphics Driver
Try updating your Graphics driver and see if it fixes your issue as outdated Graphics can forbid you from enjoying the game,  it can result in the game crashing after launching, FPS drops, or high CPU usage.
5] Change In-game settings
If you are still facing the issue, then you need to dial it down a bit. You have to change the In-game settings such that it consumes less memory. You can change the resolution, sound quality, turn off the shadows, etc. It is sort of a trial and test method as something that might work for me, might not work for you. So, do this compromise and Phasmophobia won't consume a lot of your computer's resources.
If nothing helps, you may need to repair or reinstall the game.
System Requirements to run Phasmophobia
The following are the System Requirements to run Phasmophobia.
Operating System: Windows 10/11 64-bit
Processor: Intel Core i5-4590 or AMD FX 8350
Memory: 8 GB.
Graphics: NVIDIA GTX 970 / AMD Radeon R9 290
Storage: 16 GB
If your computer has all the muscle power it needs to run the game, then only try running it. Otherwise, it can be disastrous for your system.
Why does Phasmophobia overheat my PC?
The main reason why Phasmophobia overheats your PC is that it doesn't meet the minimum system requirements. The second reason is that it is consuming a lot of CPU resources, and your PC is failing to handle the process. It is suggested to change the in-game settings and update your graphics driver to mitigate this problem.
Is Phasmophobia CPU heavy?
Yes, Phasmophobia is a heavyweight game that you can play on your Windows 11 as well as Windows 10 computers. For your information, it requires a minimum of 8GB of RAM and 16GB of storage. Apart from that, a high-end processor and graphics card are required to play this game on your computer.
That's all! Hope this guide helped you.
Read Next: FIFA 21 won't launch EA Desktop on PC.