FIFA has always been one of the most popular games and FIFA 21 is no exception. However, being popular doesn't mean being the best and is certainly not bug-free. Many users have reported that they are not able to launch FIFA 21. Therefore, in this article, we will be seeing how to fix FIFA 21 won't launch EA Desktop.
Why won't FIFA 21 launch?
There are multiple reasons why FIFA won't launch on your computer. The main reason being the system requirements. You need to make sure that your computer is compatible with the game. We have mentioned the system requirements hereinafter.
But that is not the only reason. The other major reason is your Windows Firewall blocking the game. There are some other reasons, we have mentioned fixes for all of them.
Fix FIFA 21 won't launch EA Desktop
Before looking at the potential solutions, we recommend you update your System. Open Settings, and click Update & Security > Check for updates. Download and install the available updates and see if the issue persists, if it does, continue reading.
These are the things you do to fix the error.
Allow game through Firewall
Clear Cache
Update your Graphics Driver
Reinstall FIFA 21
Let us talk about them in detail.
1] Allow game through Firewall
The first thing you need to do to fix the error is to allow FIFA 21 through Firewall. To do that, you can follow the given steps.
Search out "Windows Security" from the Start Menu.
Go to the Firewall & network protection and click Allow an app through firewall.
Tick FIFA 21 and allow it through both Public and Private networks.
Note: If you can not see FIFA 21, click "Browse", go to the location where you have saved the file and select the .exe file.
Now, retry opening the game, hopefully, it will resolve the issue.
2] Clear Cache
If the issue persists, try clearing the cache.
If you are on EA Desktop, try the following method to clear FIFA 21 Cache.
Click on the three horizontal lines from the left corner of the EA Desktop.
Go to Help > App Recovery.
Click Clear Cache.
If you are on a Windows computer, try the following method to clear FIFA 21 Cache.
Search out 'EA' from the Start Menu.
Click App Settings or App Recovery.
Click Reset or Clear Cache.
Hopefully, it will fix the issue.
3] Update your Graphics Driver
Sometimes, outdated Graphics Drivers can cause incompatibility and hence stop demanding titles such as FIFA from running. Therefore, you need to update your Graphics Driver and check if the issue persists.
4] Reinstall FIFA 21
If everything fails, you should reinstall FIFA 21. This should be your last resort but if the issue is because of a corrupted installation package or corrupted game, you need to reinstall the game to resolve the issue.
What are the System Requirements to run FIFA 21?
One thing is for sure that you can not run FIFA 21 on an old and inferior computer. But how much power do you need to run this title? In this section, we will know just that. So, let us see the System Requirements to run FIFA 21.
Operating System: Windows 10 64-bit
Processor: Intel Core i3-6100 @ 3.7GHz or AMD Athlon X4 880K @4GHz.
Memory: 8GB.
Graphics: NVIDIA GTX 660 2GB or AMD Radeon HD 7850 2GB
Storage: 50 GB
If you want to know whether your computer meets the criteria, use Directx Dialog Tool.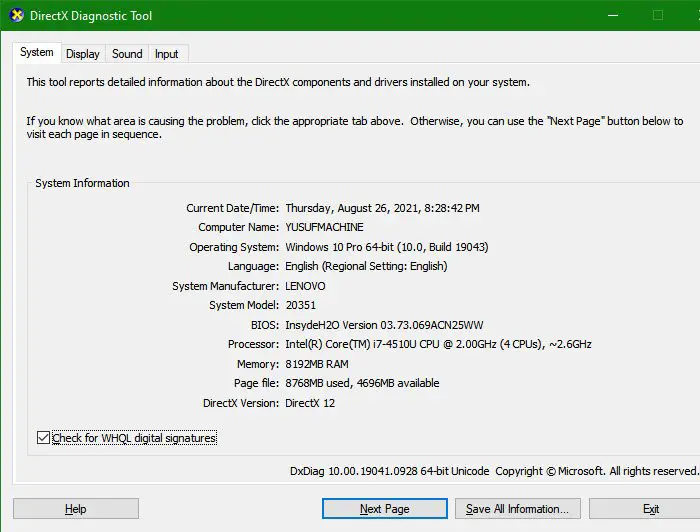 For that, open Run by Win + R, type "dxdiag", and hit Enter. You will be redirected to Directx Dialog Tool window. There you can see your computer's configuration and know if it is compatible with FIFA 21 or not.
Read Next: F1 2021 keeps crashing on PC.