Your GPU has very complex work to do, because of which, there are a lot of processes related to it running in the background. Some NVIDIA users are complaining that nvcontainer.exe aka NVIDIA Container is consuming a lot of resources. In this article, we are going to address this issue. So, if NVIDIA Container is displaying high Disk usage on your Windows 11/10 computer, then this post is for you.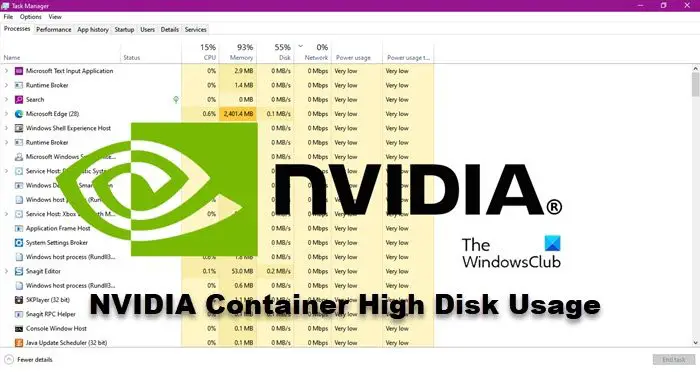 Why is my NVIDIA Container using so much Disk?
Users who are complaining about this issue are split into two sections. One sect is complaining about NVIDIA Container high Disk usage while gaming. On the other hand, the other section is experiencing the issue in question without any apparent scenario.
The major cause of this issue is the corrupted driver file. The reason why they got corrupted is uncanny, but the solution is not. We are going to give you the solution later in this article. Staying on this very point, we will also like to mention that outdated drivers can cause this issue as well. So, before reinstalling, you should update the drivers and see if that works.
Fix NVIDIA Container high Disk, GPU, Memory usage

Before looking at the potential solution, what we need to do is suspend NVIDIA Container, restart your computer and see if the issue persists. Open Task Manager by Ctrl + Shift + Esc, right-click on the process and click End task. Finally, restart your computer. After doing all this, check if NVIDIA Container is still taking your resources. If the issue remains, then move to the solutions.
If NVIDIA Container is showing high Disk, GPU or Memory usage, use the following solutions, in any order, to resolve the issue.
Update your Graphics Driver
Reinstall the driver
Scan for Viruses and Malware
Disable GeForce Overlay
Delete GeForce Experience
Restart Service
Rename NVIDIA Container
Let us talk about them in detail.
1] Update your Graphics Driver
As mentioned earlier, let us start with the most basic solution of them all, we are going to update your Graphics Driver to the latest version and see if that works. This way, if the issue is because of a bug, then it will be resolved. Following are two ways to update the Graphics Drivers on a Windows computer.
After updating the driver, restart your computer and see if the issue persists.
2] Reinstall the driver
If updating is to no avail, then maybe the driver on your computer is corrupted and not outdated. What you need to do is reinstall the driver and see if that works. So, go to Device Manager, uninstall the Display Driver and then reinstall it. Hopefully, it will resolve the issue for you.
3] Scan for Viruses and Malware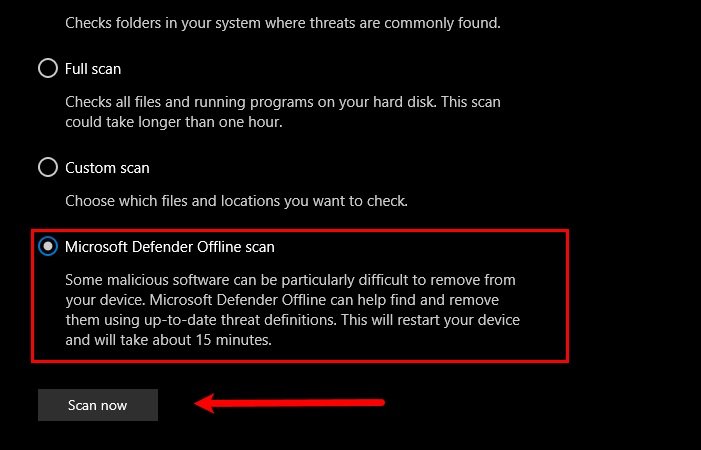 Another reason that can trigger the issue in question is the presence of viruses and malware. The legit nvcontainer.exe process is located in the following folder:
C:\Program Files\NVIDIA Corporation\NvContainer\
If located elsewhere, it could be a virus. You can use your antivirus to scan your computer or use Windows Security to do the same. You can follow the given steps to use Windows Security to scan for viruses and malware.
Open Windows Security by searching it out of the Start Menu.
Go to Virus & threat protection.
Click Scan options.
Select Microsoft Defender Offline scan > Scan now.
Wait for the process to complete and check if the issue persists.
4] Disable GeForce Overlay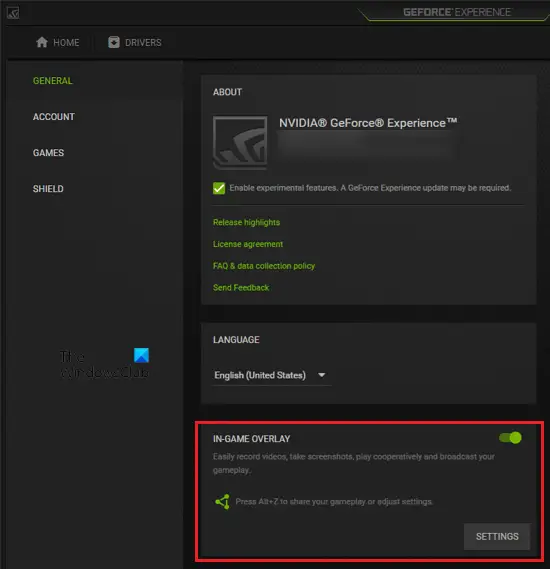 The In-Game Overlay is useful for gamers as it allows them to access some GeForce exclusive features. However, it adds weight to your computer and forces it to allocate some resources to the process. If you are complaining about high Disk usage, then try the following steps to disable In-Game Overlay.
Open GeForce Experience
Click on the cog button to enter the Settings.
Go to GENERAL and disable IN-GAME OVERLAY.
Finally, restart your computer and check if the issue persists.
5] Delete GeForce Experience
If disabling the Overlay is to no avail, then we would try to delete GeForce Experience. Even though it comes with the driver, it is there to automatically update it. However, there are other methods by which you can update the driver (we have mentioned earlier). So, we would recommend you uninstall GeForce Experience and see if it works.
6] Restart Service
The issue can be because of a glitch and to resolve it, we need to restart NVIDIA Display Container Local System Service. Open Services, look for Nvidia Display Container Local System, right-click on it and select Stop. Restart your computer, right-click on the same service and click Start. Hopefully, your issue will be resolved.
7] Rename NVIDIA Container
A lot of people would recommend you to delete NVIDIA Container. You can do that, but to get it back, you need to hustle. And there are a lot of things that you need to hustle for. What you need to do is rename the NVIDIA Container. Open Task Manager, right-click on NVIDIA Container and select Open File Location.
Then, right-click on the nvcontainer.exe or nvdisplay.container.exe file and select Rename. Name it "nvcontainer_.exe" and hit Enter.
Hopefully, this will resolve the issue for you.
Should I disable NVIDIA Container?
NVIDIA Container is an important feature that allows other GPU related programs to run properly. So, you should not disable it, unless it is causing an issue. Such as the one we are discussing. Still, we would recommend you go through the solutions mentioned earlier before taking this step.
Also check: