When installing or accessing Minecraft, a lot of us receive the error code 0x89235172. This error code means that some apps are not updated or corrupted. We will also face this error due to some network glitches. In this post, we will discuss this error and how you can resolve the issue.
Looks like something went wrong, We weren't able to install the app (0x89235172)
Fix Minecraft error Code 0x89235172
If you face Minecraft error Code 0x89235172, the very first thing that you should do is update the Operating System. If updating doesn't work, follow the below solutions to resolve the issue.
Reset Network Protocols
Update Xbox App
Reset or Repair Gaming Services
Run Microsoft Store Troubleshooter
Remove Mod Files
Use Microsoft Account
Let us talk about them in detail.
1] Reset Network Protocols
Since Minecraft is an online game, it requires a decent Internet Connection to complete the download process. If you run Minecraft Installer or even access the app, it will communicate with its server. In that process, many network protocols are used to carry the communication request from the client to the server, in case, a glitch in those protocols hinders the communication, hence, causing the error 0x89235172. That is why we will reset Network Protocols and resolve the issue pretty easily. For that, first, launch Command Prompt with administrative privileges and then run the following commands.
ipconfig / flushdns

ipconfig / flushdns

ipconfig / release

ipconfig / renew

netsh winsock reset
2] Update Xbox App
Next up, we need to update the Xbox App present on your computer. It is pretty easy to do the same, we need to open Microsoft Store, click on Library, and then on Get Updates. From there, you can update the Xbox app. After that, check if the issue is resolved.
3] Reset or Repair Gaming Services
Error Code 0x89235172 appears if the Gaming Services app is misconfigured. The misconfiguration happens due to various reasons but can be easily resolved from the Windows Settings. All you need to do is follow the steps mentioned below and you will be good to go.
Open Settings by Win + I.
Go to Apps > Apps & features or Installed apps.
Search for Gaming Services.
Click on the three dots and select Reset.
Wait for the command to do its job and see if the issue is resolved. In case, the issue persists, we need to repair the app itself. The same can be done from the Settings panel of Gaming Services. This time, instead of clicking on the Reset button, click on Repair. It will do the job and resolve the issue for you.
4] Run Microsoft Store Apps Troubleshooter
Microsoft Store Apps troubleshooter is a great utility that allows users to repair or resolve issues related to Microsoft Store. It is a built-in tool installed on all Windows computers and one can easily run it and resolve the issue. To do the same, follow the given steps.
Windows 11
Open Settings.
Go to System > Troubleshooter.
Click on Other troubleshooters.
Click on the Run button associated with Windows Store Apps.
Windows 10
Launch Settings.
Go to Update & Security > Troubleshooter.
Navigate to Additional troubleshooters > Windows Store Apps > Run the troubleshooter.
The tool will automatically scan and repair the issue and hopefully, your issue will be resolved.
5] Remove Mod Files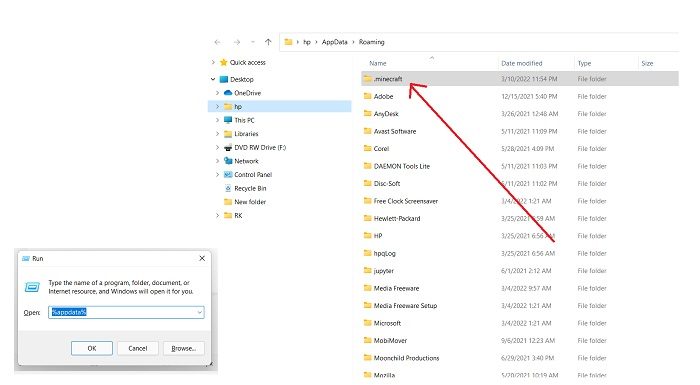 If you have a previously installed instance of Minecraft and you have added some Mods to it, they are likely corrupted. In that case, all we need to do is remove the mods, uninstall the app, and install it again and the issue will be resolved.
To remove Minecraft mods, open Run by Win + R, type "%AppData%" and click Ok. You can find a folder called Mods in the given list of folders, just remove it. Now, you can uninstall and reinstall the apps to see if the issue persists. Hopefully, this will do the trick for you.
6] Use Microsoft Account
If nothing works, switch to Microsoft Account instead of a Minecraft account. It is pretty common amount gamers; we can log in to our existing account and see if the issue is resolved.
We hope that your issue is resolved using the solutions mentioned in this article.
How do I fix error code 0x803f8001 for Minecraft launcher?
Error Code 0x803f8001 of Minecraft prevents us from playing the game. Broadly speaking, we can divide the reason into two groups, there is some issue between the server and the client and a corrupted cache. We recommend you check our guide on how to repair Minecraft Launcher 0x803f8001.
Also Read: Minecraft not installing on Windows PC.