Error code 0x87E10BCF relates to an issue with the Microsoft Store. Most commonly, users have reported this error surfacing while they're trying to install a new app on their computer or update an existing one. In this article, we will be discussing the different ways in which you can resolve the error in question from occurring on your Microsoft Store application again.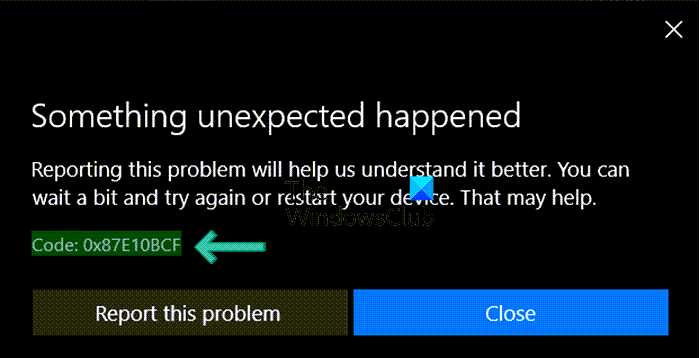 One of the bigger overhauls with the up-gradation to Windows 11 is the extended collection of apps that the Microsoft Store comprises. Not only that, but its newer UI is more user-friendly and appealing to the eye, making it something people now increasingly rely on to get the newest apps. The primary reason, as suggested by reports online, for this error is damaged cache files or the updated components on your system going haywire. Thus, our solutions will pertain to fixes that seek to tackle these things.
How to fix Microsoft Store Error 0x87E10BCF
Try the following suggestions to fix this error:
Change the internet connection and see
Reset Microsoft Store
Try changing the Update Services Startup Type
Reset the Windows Update Components on your PC
Reset your PC
1] Change the internet connection and see
At times, the issue could be due to restrictions on the internet connection. Also, the internet connection could be slow or intermittent. In this case, try changing the internet connection.
2] Reset or Repair Microsoft Store
The first thing you can try is resetting the Store application on your Windows PC. Since the MS Store comes built into your PC, you can't uninstall and reinstall it like any third-party application. You do, however, get an option to reset it via Windows Settings. Here's how you can do that:
Open Windows Settings with the Win + 'I' keyboard shortcut
Here, select Apps from the options bar to your left and further click on Apps and Features
You'll then be shown a list of installed apps. From that list, locate Microsoft Store
Select it and further select the Advanced Options button there
You'll see an option to reset this application under the Reset head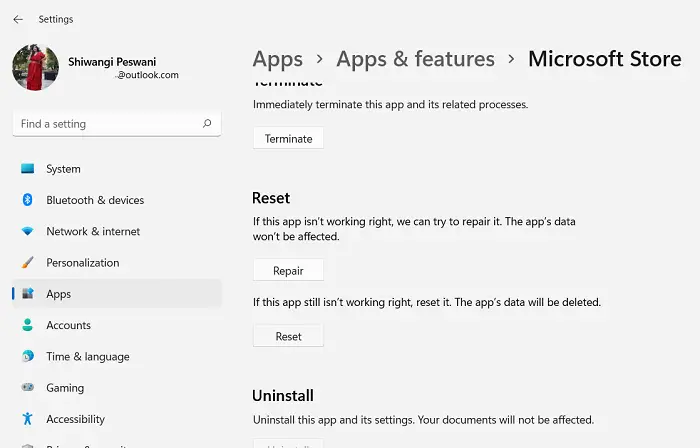 Once you're done with the resetting process, you should try opening the Microsoft Store and check if the issue has been resolved.
3] Try changing the Update Services Startup Type
When the Startup type for your Update Services isn't configured, they may get turned off, resulting in an error 0x87E10BCF and you being unable to install/update applications.
The default configuration on a standalone Windows 11/10 PC is as follows:
Windows Update Service – Manual (Triggered)
Windows Update Medic Services – Manual
Cryptographic Services – Automatic
Background Intelligent Transfer Service – Manual
DCOM Server Process Launcher – Automatic
RPC Endpoint Mapper –  Automatic
Windows Installer – Manual.
What we are doing here is changing the Startup types to Automatic in some cases.
Open the Start Menu, search for the Command Prompt, and run it as administrator
Now, type each of the following commands in the CMD window one at a time
SC config wuauserv start=auto

SC config bits start=auto

SC config cryptsvc start=auto

SC config trustedinstaller start=auto
Once these commands are input and initiated, you can close the CMD window and restart your computer to implement the change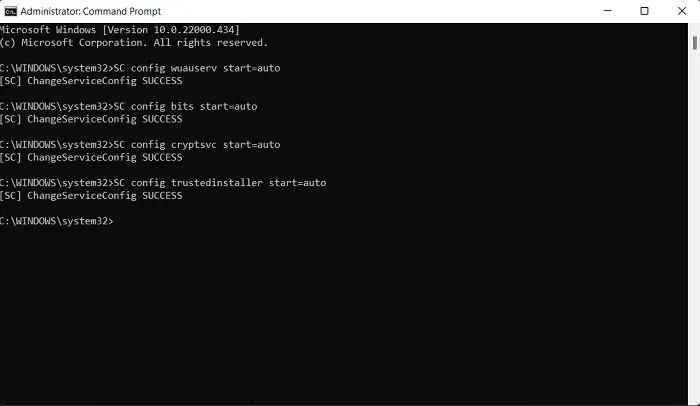 Upon restart, check if the issue has been resolved.
4] Reset the Windows Update Components on your PC
Given how frequent Windows updates are, it is no surprise that it is a very well-orchestrated system with a lot of components coordinating with one another. On the off chance that some of these components aren't functioning properly, you may come across the error in question, and in that case, you can try resetting Windows Update Components.
5] Reset your PC
A final resort to solving this error is to reset your operating system as a whole. This process is similar to reinstalling Windows on your PC, except your PC continues to have the files and programs in it. This change is also brought through the Settings app by following the steps mentioned below:
Open Windows Settings
Select the System tab and click on Recovery
Here, you'll find a button named Reset PC under the Recovery Options head
Do so, follow the instructions that subsequently show up on your screen, and wait till your PC is fully reset to check if you have gotten rid of the error or not. We hope this helps!
Related: Windows Activation Errors 0x87e10bcf.
What happens if I reset Microsoft Store?
If you reset Microsoft Store, it will reset the cache and will resolve the temporary bugs with your apps. All your app's data will also be permanently deleted on your device including your sign-in details.
How do I reset Microsoft Store?
To reset Microsoft Store, press Win+I on your keyboard to open Settings > Apps > Apps and features > Search for Microsoft Store > Advanced options > Use the Reset button.