Halo Infinite is the biggest thing in the games that support multiplayer, right now. There are some issues with the game which is making it hard for the player to use and play it to their full potential. Some users are reporting that the Halo Infinite customization options are not loading. In this guide, we have a few solutions that can help you fix this issue.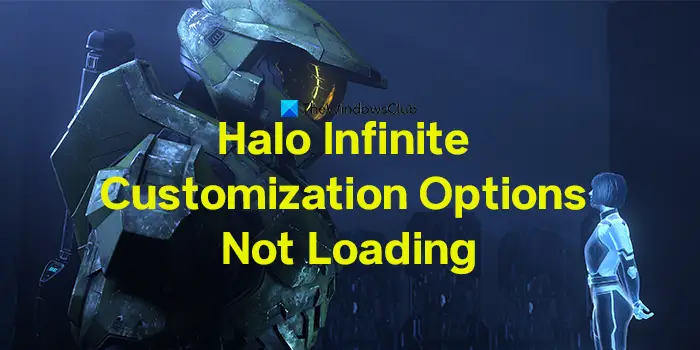 After months of the beta release, Halo Infinite was released recently to all the gamers. It is still topping the charts as one of the popular games. There are some complaints that Halo Infinite customization options are not loading. Let's see how we can fix it on your Windows 11/10 PC.
Halo Infinite Customization Options not loading
If the customization options are not loading on Halo Infinite, you can fix them using the below fixes.
Close background apps
Disable IPv6
Enable Teredo state
Use Xbox app
Let's get into the details of each method.
1] Close background apps
Sometimes, Halo Infinite game might not be getting to use the required CPU or RAM because of the apps that are running in the background. It might make it hard to function properly. Close the background apps that are no longer in use using Task Manager and try again.
2] Disable IPv6
There might be an issue with the internet connection. It is recommended to disable IPv6 for Halo Infinite. The issue might have been popped up due to internet connectivity issues. Try loading customization after disabling IPv6 on your PC.
3] Enable Teredo state
You have to enable Teredo state via Group Policy Editor.
Open gpedit.msc via Run command box.
Click on Administrative Templates and expand All Settings.
You will see Set Teredo State policy in the list. Double-click on it.
Set it to Enabled and Enterprise Client.
Then, click OK.
Restart your PC and see if it has resolved the issue.
4] Use Xbox app
If you are using Steam to play Halo Infinite and customization options are not loading, try using the Xbox app. There might be some issues with Steam that is not fully supporting Halo Infinite.
These are the different ways you can use when you find Halo Infinite customization options not loading.
How do you fix Halo Infinite not loading?
When Halo Infinite is not loading, you can fix it easily in the following ways.
Check the Server Status.
Restart your system/ Xbox.
Restart your Router.
Change DNS Address.
Reset Network Settings.
Will Halo Infinite have customization?
Yes, Halo Infinite has options to customize the game. But, there are very limited options to customize Spartans. Many gamers are disappointed with this and express it publicly on social media.
Related read: What is Halo Infinite Look Acceleration and How to Use it.