If Google Chrome is not showing bookmarked website icons or is broken or showing a globe icon, then this post may help you fix the issue. This might happen after importing bookmarks from another browser.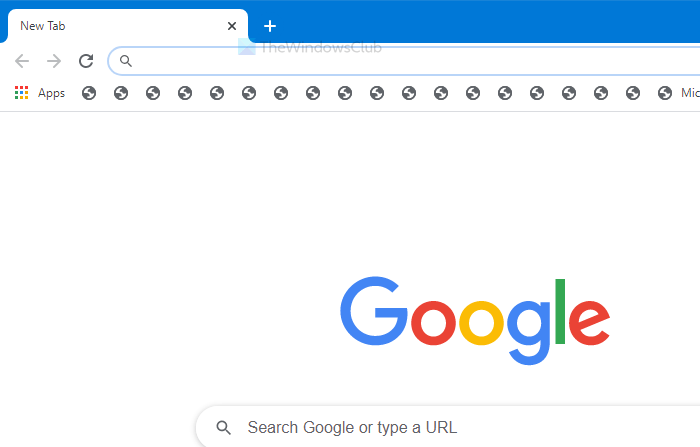 By default, Google Chrome doesn't show the bookmark toolbar on all pages, and you can manage it according to your preference. It doesn't matter whether the bookmark toolbar appears set to be visible on all tabs or only new tabs; you should still see the website's favicon as the bookmark icon. If it doesn't, here's what you can do.
Chrome showing wrong or no bookmark icon
If your Google Chrome browser is not showing the correct website icon or shows no bookmark icon, try these suggestions:
Reset Favicons and Favicons-journal
Click on each Bookmark
Reimport from browser
Clear the browser cache.
To learn more about these steps, keep reading.
1] Reset Favicons and Favicons-journal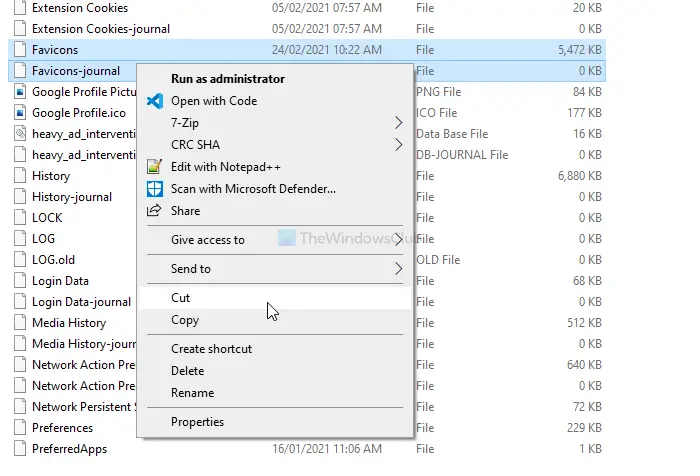 When you open the Google Chrome browser for the first time, it creates two files – Favicons and Favicons-journal. Both are visible in the Default folder included inside the AppData. If these files are corrupted, you won't get the favicons or bookmarked websites' icons in the bookmark toolbar. It happens when malware or adware gets injected into your computer. Therefore, open the File Explorer, and navigate to this path-
C:\Users\(username)\AppData\Local\Google\Chrome\User Data\Default
You might have to show hidden files and folders to get to the AppData folder. In the Default folder, it shows two files name as above. Copy Favicons and Favicons-journal files in another location and restart your Google Chrome browser.
After that, follow the next step.
2] Click on each bookmark
If you have imported the bookmarks from another browser, there is a chance that the bookmark icons may not appear in another browser. It is recommended to click on each link to allow the browser to fetch the favicons.
This step also completes the first method, as said earlier. Whether you have five or fifty bookmarks, you have to click on each bookmarked website and let it load correctly. Once done, you can close the tab to find the icon in the bookmark toolbar.
3] Reimport from browser
When importing from another browser, some internal files may get corrupted due to any reason. As a result, you might not find the bookmark icons or favicons in your Chrome browser. Therefore, it is better to delete all the bookmarks and go through the same steps to reimport them.
4] Clear the browser cache
At times, this problem might occur due to old cache or website data. Let's say a website didn't have a favicon earlier, but now they have added one. In that case, Chrome might not detect the new favicons unless you clear cache or open the website in your browser again. Therefore, clear Chrome cache, cookies, and browsing history to make the problem go away.
These are some of the working solutions to fix this issue.