Some Windows users are experiencing an error. They see a Bdeunlock.exe error box that says Bad image, System Error or Not responding. In this article, we are going to see how to fix Bdeunlock.exe errors with the help of simple solutions.
What is Bdeunlock.exe?
Bdeunlock.exe is a BitLocker Unlock file. It is created by Microsoft during the creation of Windows OS. It has been an integral part of the Windows Operating Systems. This file was created to make memory allocation easier for the system.
Before going through the potential solutions, we recommend you update your OS. You can easily update your Windows from the Settings. Just open Settings by Win + I, go to Update & Security and click Check for Updates. Download and install updates if available. Sometimes, updating alone can fix the issue. If the issue persists, continue reading.
Bdeunlock.exe Bad image, System Error or Not responding error
To fix Bdeunlock.exe errors on Windows 11/10, you can use the following solutions.
Check this Registry path
Use System File Checker
Re-register this DLL file
Use System Restore.
Let us talk about them in detail.
1] Check this Registry path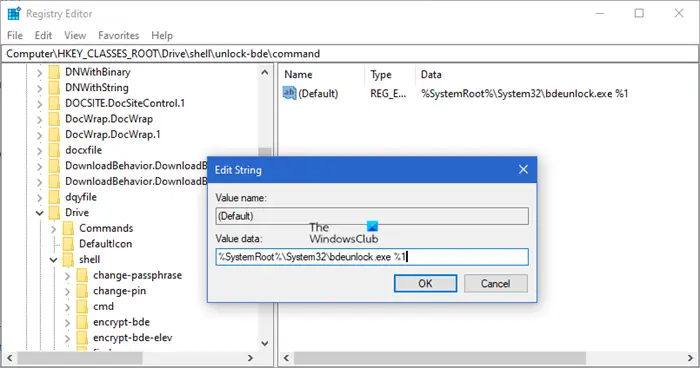 Open Registry Editor and navigate to the following key:
Computer\HKEY_CLASSES_ROOT\Drive\shell\unlock-bde\command
Ensure that the path is set to:
%SystemRoot%\System32\bdeunlock.exe %1
2] Use System File Checker
This issue can be because of corrupted system files. Therefore, using the System File Checker or SFC is the way to go.
So, launch Command Prompt as an administrator from the Start Menu or from Run(WIn + R), type "cmd", and hit Ctrl + Shift + Enter. You will see a UAC message box, click Yes. Now, execute the following command.
sfc /scannow
This will fix the issue for you.
3] Re-register this DLL file
Fveapi.dll file is a related file. It is known as Windows BitLocker Drive Encryption API. Re-register this DLL file and see if it helps.
Related: Fix MSTeams.exe Bad Image Error.
4] Use System Restore
If you have created a System Restore point, this is the time to use it. To do that, you can follow the given steps.
Search out "System Restore Point" or from the Start Menu.
Click System Restore.
Click Next, select a System Restore Point and click Next.
Finally, follow the on-screen instructions to complete the task. Hopefully, it will fix the issue.
Related: Check BitLocker Drive Encryption Status for Drive using Command Prompt or PowerShell.
Why do I keep getting Bad Image Errors?
Bad Image Errors mean that you are dealing with a corrupted program. It is a fairly common error and can be easily fixed by repairing, reinstalling or fixing the corrupted program. In the case of Bdeunlock.exe, you can not simple uninstall and reinstall the program. So, can use the given solutions to do rectify the error.
Read next: