A healthy mind resides in a healthy body and vice-versa. As most technology pushes us more towards a sedentary lifestyle, some of it could help those with more willpower to pursue fitness. More than high-tech gym equipment, portable technology in the form of apps could be helpful, both for tracking and advisory.
Fitness apps for Windows 11/10
Here is a list of some of the best Fitness apps for Windows 11/10.
1] Simply Yoga
While still a subject of debate in the West, yoga actually works. This is something I could say out of the personal experience, sufficient enough to deny those who criticize yoga. One reason to rely on yoga (or at least include it in your fitness schedule) is that most of our day-to-day activities don't involve weightlifting; however, being flexible, active, and alert is pretty helpful. Thus, yoga gives what weight lifting cannot.
Simply Yoga is the best yoga app available at the Microsoft store. The app is one of those usual ones which help instruct through videos and images and help follow a schedule. Check more details about the app here.
Read: Free Yoga apps for beginners for Windows PC
2] HealthVault
HealthVault is one of those perfect health apps which include the best of everything. No, it isn't a training app, but made to monitor your health stats in general. It keeps track of your vitals (eg. monitors cholesterol, bp, etc.). Users can make their own health schedule and track progress. The good part about HealthVault is that it is comprehensive and the reports it can record can include every possible minute detail. Get this app from here and plan your schedule. It is available for PCs only.
3] Active Fitness
While body-building has its own enthusiasts when we use the word fitness, it is more about how your body responds to situations and of course stamina. True fitness is not about building muscles but training your body to counter general situations effectively, something that can be achieved by practicing with basic exercises like running, swimming, walking, etc. the Active Fitness is a social network and tracking app for such activities as well as urban sports like watersports, kayaking, rafting, skateboarding, scooter, etc. Download the app from here.
4] Perfect Workout
The only reason I mentioned this app in the list is its high rating among users. While nothing more than the usual fitness instruction app the interface is crisp to use, making it a favorite among users. With the help of animations and charts, it helps trainees maintain their fitness. The app is available at the Microsoft store here for those who wish to download.
5] Rain Sound – Relax Melodies With Deep Sleep Music
A customized app for mental peace, Rain Sounds plays sounds of different rains, eg. a storm, calm beach, gentle rain, etc. They say that the sound of rain helps sooth the mind and uplift mood. The downloads and ratings of the app approve of the fact. Get this amazing app from the Microsoft app store here.
6] Fit Diary
A light app, Fit Diary helps you count calories, organize your diet, modify your schedule, etc. The app works offline and keeps track of your vitals to help monitor fitness. This simple app is available in the Microsoft store.
7] Daily Workouts
The Daily Workouts app helps trainees learn bodyweight fitness exercises and schedule them. Usually stretches, ball exercises, pilates, etc. Understanding that people usually have a busy schedule, the high-intensity workouts suggested by the Daily Workouts app are appropriate. To get access to more than 170 exercises covering all major body muscles, download the app from the Microsoft store here.
8] Gym Workouts
The difficult part of gym exercises is that while they have to be correct and precise, but most don't know how to do it right. The way you bend, the momentum of the body, the importance of warm up, everything matters. The Gym Workouts app is custom-made to help trainees work out with precise instructions. It is a no-nonsense app with exact pictures of the poses. The app helps you connect with other like-minded trainees, and you can share your schedule with your friends. Get the app from the Microsoft store here.
9] Glycemic Index & Load Diet Assistant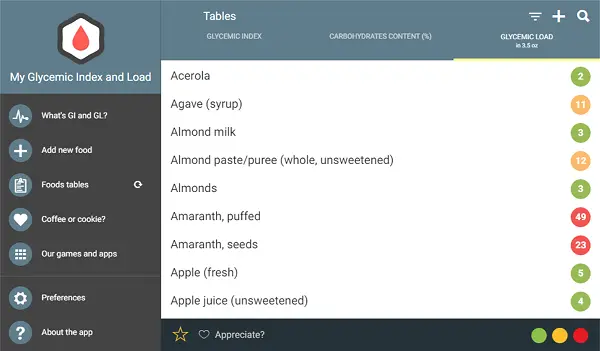 Glycemic Index is basically a measure of how easily a specific food adds glucose to our blood sugar. On a scale of 1-100, 100 represents pure glucose, and every other food is compared accordingly. The Glycemic Index & Load Diet Assistant app is a must-have for diabetics for they should know what to eat, but its use isn't limited to them.
It's a known fact that sugar is bad for health even if you do not have diabetes, thus making the Glycemic Index & Load Diet Assistant app necessary for every fitness trainee. Managing the same would help lose weight and get fit. This useful app is available from the Microsoft Store here.
10] Winter Sports
The Winter Sports app covers winter sports like skiing. It is the official app of the Professional Ski Instructors of America and American Association of Snowboard Instructors. The best part about the app is that it allows for networking with fellow trainees. The app is available in the Microsoft store here.
Which one do you use?