We often get massive data breach news where millions of accounts get compromised along with their email addresses and passwords. However, we can never know if our email addresses or any other personal details were a part of that breach or not. It is practically not possible to check for a single email address amongst the millions of email addresses compromised.
Internet today is the most important part of our lives as we have most of our data stored out there and a Data Breach can be the worst nightmare in such a case. The Internet is so much into our lives currently that every one of us has multiple accounts of multiple websites. It is nearly impossible to keep a track on all our accounts at a time, we won't even know that our usernames and passwords are been hacked and the hacker can easily harm us. We come to know when the damage has been done but there has to be a way out, right?
Mozilla Firefox has finally found a solution to this problem and has launched the Firefox Monitor which will notify you whenever you've become part of a data breach so that you can change the login details quickly and save the data.
Firefox Monitor checks if your online ID was stolen
To use this monitor, you need to visit their website and type in your email address. The tool will then scan your email address against a database of data breaches. After the through the scan, the monitor will let you know if your email address was a part of any publicly known data breach. Once you get to know that your data is breached, you can change your details and avoid any further harm.
Just check the screenshot below, I entered my email address in the Firefox Monitor and was shocked to see that my email address and the passwords have been potentially breached four times during the massive Data Breach attacks. I would have never ever realized it without this tool.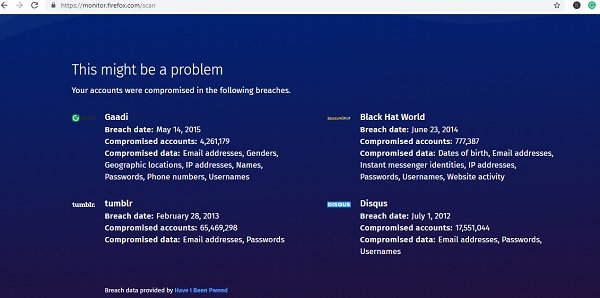 Firefox Monitor which will be a free service for all has been under testing and has been now launched for the public usage.
Learn About Future Data Breaches
Once you are done with the current scan, sign up for the future data breaches too. Sign up using your email address and the tool will scan it for every future data breach and notify you if you are involved. You will be notified via a private email from Firefox monitor.
Your email addresses are safe with Firefox as it will be protected while scanning. Privacy and security of users is the primary concern at Firefox and your details are in safe hands.
Firefox has been working on the privacy concern and keep releasing the tools to make your accounts and details even more secure. Earlier the company has launched the roadmap to anti-tracking and will be coming up with more of such security tools in near future.
As I have shown you my own scan result above in the screenshot, it is very much clear that this Firefox Monitor works and is very helpful.You should try it out too and see if any of your email IDs have been compromised. Head over to monitor.firefox.com and check if your details were breached in past attacks.