If you need free software to draw pictures or make comic strips, you can check out FireAlpaca. FireAlpaca is a freeware for Windows that allows you to create images from scratch. It is mainly a comic maker's companion, but you can use it to edit standard photos as well.
FireAlpaca Paint Tool for PC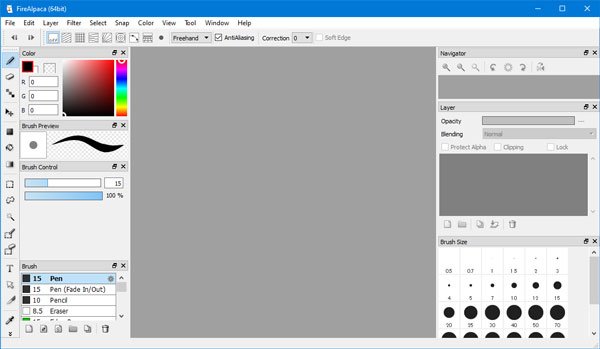 FireAlpaca doesn't have anything unique, but it does the job pretty well. The light performance has made it even better. Apart from that, you can find color palette, comic templates, etc.
To be more specific, these following features are the highlight of this freeware.
Comic templates: As it is a comic strip maker, you can find various comic templates. Obviously, you need to draw everything, but you can get a start from the templates. You can choose a template while making a new image.
RGB and CMYK profile selection: Most of the tools do not allow you to choose an RGB profile while making an image or comic strip. It is essential to select the RGB profile as you need to play with the color while creating something for the public. This functionality is available in FireAlpaca. You can also print your comic drawing. The CMYK profile is an effective option to get the exact color as you desire. It is possible to choose a CMYK profile as well.
Multi-layer: You need multiple layers – otherwise, it would be a time-consuming task to undo something. Multi-layer option has several other advantages. If you use this software, you can take some of those advantages.
PSD file support: Sometimes, you may need to create something in Photoshop. For instance, you might need to create a character, and Photoshop is the best option for you. For such times, you can import the PSD file. It is possible to edit the PSD file in FireAlpaca as well.
Work with 3D: You can work with 3D objects, which give your image a professional touch.
There are several other features available in this software. You need to use it to find them all.
To start using it, you first, need to create a new image or comic template. For that, simply press Ctrl + N or go to File > New.
After that, you need to select what you want to create in this tool. For instance, if you want to create a standard image, stay on the first tab. If you want to create a comic strip, you need to switch to the second tab. The RGB profile, CMYK profile, paper size, background color, etc. can be set from the 'Create New Image' window.
If you like, you can download FireAlpaca from the official website. It is available for Windows 10/8/7.