.A website can lose not only visitors but search engine rankings as well if the search engine is not able to follow URLs to that site. It is therefore essential to get the redirects correctly in place. These tools can help you find if the links or URLs redirect to a location, as desired.
A large number of short URL generators are used to cut short the long address of websites just to save people's efforts of typing out long URLs. However, there lies an inherent danger, and that is to find where exactly these links point to. Then again, sometimes you might wat to even check and confirm whether a regular looking URL actually goes to the desired destination or not. Unreliable ones may trick people into redirecting to malicious sites that are all set to install malware on your computer.
Check where URL redirects to
Redirect Detective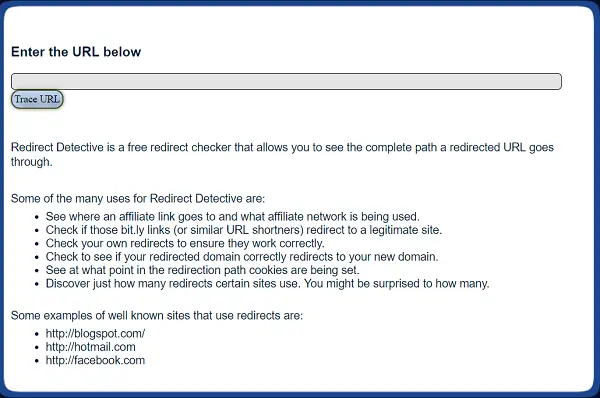 This website allows you to trace a URL redirect. Redirects have two main types:
Redirects specified in the HTTP Headers
Redirects specified in the HTML source
RedirectDetective.com is capable of detecting HTTP redirects. If a redirect points to another page which in turn points back to where it came from, it results in an endless redirect loop. Redirect Detective can handle a maximum of 10 redirects before hanging up.
Wheregoes.com
Using this website, one can find if the entire path of redirects and meta-refreshes leads to the desired destination. In addition to this, it lets you perform a thorough check, diagnose complex link problems and troubleshoot links.
Webconfs
This tool helps you determine if the redirect you have created is Search Engine Friendly or not. Simply copy-paste the URL whose Redirect you want to check and hit the submit button.
Redirect Check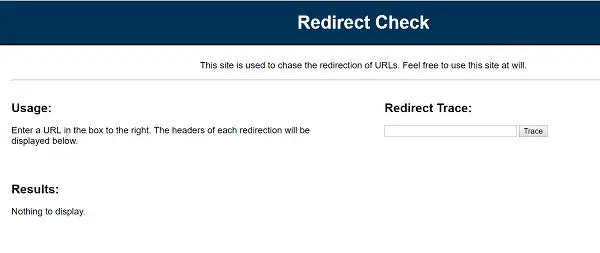 This website is quite simple in function. It displays a blank field where a user can enter a URL address and trace it. The headers of each redirection become visible under the address entered.
Do use these tools if you want to check where a shortened URL goes or if you need to confirm a regular but doubtful links real destination.