Some users of the FIFA 23 web app have been experiencing problems whenever they attempt to launch the app in a bid to stream FIFA games. The problem has become more frequent in recent times, and that's a problem because millions of gamers play FIFA.
The question is, what are the causes? Well, we have done our own investigation and our findings have confirmed that the issue stems from several possible reasons. For example, server outages, unstable internet connection, corrupted, or outdated FIFA 23 web app, and more.
FIFA 23 web app not working on PC
All the possible reasons why FIFA 23 web app is not working can be fixed via the following solutions:
Check EA server status
Investigate your internet connection
Buy the full version of the game
Clear your web browser cache
Sign out and Sign in again
Disable web browser extensions
Check to see if the FIFA 23 web app is supported in your country
1] Check EA server status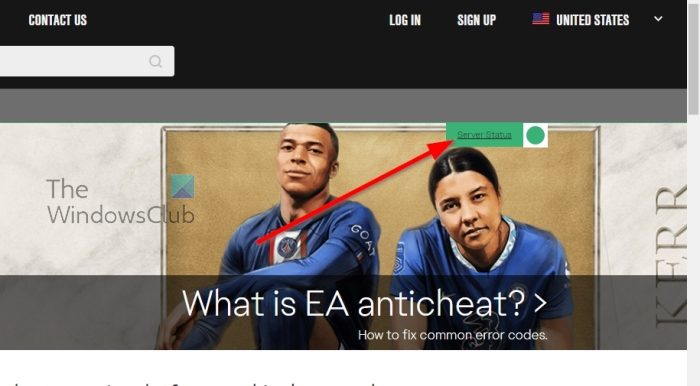 Before getting our hands dirty, we must first check to see if the EA servers are down. If this is the case, then chances are it is the primary reason you're unable to access the FIFA 23 web app.
Go to the official EA Help website at https://help.ea.com/en/.
From there, click on the Games tab.
A drop-down menu will appear.
Click on FIFA 23 via the menu.
If it is not there, then search for it via the search box.
Once selected, you should look for the Server Status icon.
If the icon is green, then things are fine.
If the icon is red, then the servers are done.
Alternatively, you can visit the official EA social media pages for information on server problems. You can also check Downdetector.
2] Investigate your internet connection
Like it or not, bad internet connections can cause unforeseen problems.
Are you using Wi-Fi? We suggest rebooting the wireless router or placing it in a spot where it can better provide a stronger connection.
If you're using a data plan, you should check to see if the data plan has been exceeded. If that is the case, then add more data to keep going.
Finally, if you are not using a wired connection, then you should consider going down that route. Wired is stabler and faster than all wired services at this time.
3] Buy the full version of the game
Here's the thing, if you have not yet purchased FIFA 23, then you will not be able to access the web app. So, with that in mind, you must go ahead and buy the game as soon as you can in order to have full access to all the treats.
Furthermore, we must note that it is required to sign in with an official EA account even after buying the game.
4] Clear your web browser cache
Another solution we highly recommend is for the user to clear the cache of their favorite web browser may it be Microsoft Edge, Chrome, Firefox or Opera.
5] Sign out and Sign in again
One of the best ways to solve problems with the FIFA 23 web app, is to sign out of your EA account and then sign in again. Also, you should always make sure your country of origin is the same as the EA account and the purchased game.
Furthermore, if you are new to using an EA account, please check your email for a special access code.
6] Disable web browser extensions
A bad extension can affect the performance of your web browser in more ways than one. If one is installed, then it could be the primary issue behind the issues FIFA 23 web app is facing.
The best thing to do right now is to disable the affected browser extension or add-ons.
7] Check to see if the FIFA 23 web app is supported in your country
For those who weren't aware, the FIFA 23 web app only supports selected countries, and chances are, yours is not on the list. If such is true, then you will have to use a VPN service to gain access.
READ: Fix FIFA 22 High Ping issues on PC
Why is my FIFA 23 Web App not working?
There are several reasons why the FIFA 23 web app is not working as it should. The most common has to do with the browser cache. Simply clear the cache, and from there, things should return to normal.
Why can't I launch FIFA 23 on Steam?
There are many reasons why FIFA 23 is unable to open on Steam. One such reason could be due to Steam Overlay being active. The best option here, then, is to disable the overlay and then attempt to play FIFA 23 again. To get this done, please open Steam, then navigate to the Settings area. After that, go to In-Game and uncheck the box that reads, Enable the Steam Overlay while in-game. Click on the OK button, then attempt to launch the game again.