Facebook offers a more convenient and secure way to send or receive money between friends through Meta Pay (formerly known as Facebook Pay). While the social media giant also offers this service through its other platforms (WhatsApp, Instagram, Messenger), in this post, we will explain how to use Facebook Pay on Messenger.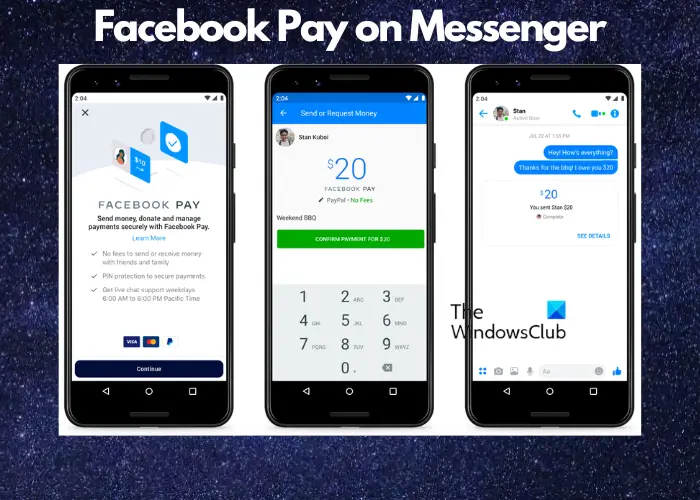 However, the payment service by Facebook is currently available only in participating countries. So, if you are in India, you will not be able to use Meta Pay, except with WhatsApp.
How to use Facebook Pay on Messenger
Messenger is now more than just a chatting app as now, you can also send and receive money on Facebook Pay using the platform. For those using Facebook Messenger as their primary app for communication, this feature can be helpful for such transactions. But if you don't know how to use the Facebook Pay feature on Messenger, here's a quick guide for you.
Set up Meta Pay on Facebook Desktop
Set up Meta Pay on Facebook Mobile
Send money with Facebook
Receive money on Facebook
Few points to remember
1] Prerequisites to use Facebook Pay
Before you can send or receive money through Meta Pay on Messenger, you need to ensure a few things:
You should be 18 years and above.
You should add a payment method (credit card/debit card/PayPal account) on Facebook to link to Meta Pay.
You are residing in one of the participating countries, as listed by Facebook.
2] Set up Meta Pay on desktop & mobile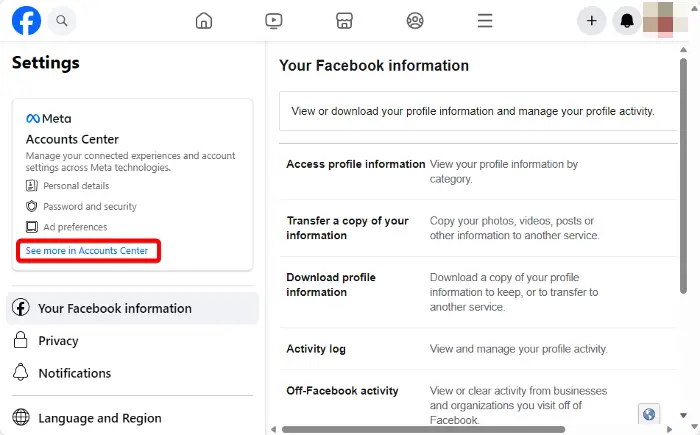 The next step would be to set a payment method on Facebook desktop or mobile. This can also help run Facebook ads.
On your desktop, open Facebook on your browser. Next, click on your profile picture on the top right > Settings and Privacy > Settings. On the next screen > Accounts Center on the left > See more in Accounts Center. Now, on the Accounts Center page > Account Settings > Payments > Meta Pay. Next, in the Payment Method box > Add credit/debit card/PayPal account details > Save.
To use Facebook Pay on the mobile Messenger, open the Facebook app. Now, click on your profile picture on the top right for Android/tap on the Menu icon on the lower right for iPhone. Next, select Settings & Privacy > Orders and payments > Payment methods > Add payment method > Select your choice (credit or debit card/PayPal) > Add details > Save.
Read: How to get Facebook Ad Credit?
3] Send money with Facebook
Now that you have successfully set up the payment method on your desktop/mobile, open Messenger and start a conversation with the person you want to pay. via Facebook. Next, tap on the + icon at the bottom left and select the $ icon to open the payment page. Here, type in the amount you want to send and tap/click on the Pay button to send money.
If this is the first time you are sending money on Facebook, you will need to first press Next and then Pay. Also, for first-time payments, you need to add funding details during the payment process. Alternatively, you can add the funding details through Facebook settings. Simply add your debit card number or PayPal account details and make sure that you have sufficient funds in your checking account to avoid any penalties. You may also set up a PIN/fingerprint match/facial recognition for security.
Read: Facebook Messenger Not Sending Messages or Images
4] Receive money on Facebook
To receive payments on Facebook through MetaPay, you need your debit card or PayPal account details to link your account. Now, as you receive a payment, Facebook will send this amount to the linked account (debit card/PayPal).
Read: Facebook Messenger not working on computer

5] A few points to remember
Considering it's a social media platform and everything is online, there are high chances of fraudulent activities, despite the strict measures by Facebook. Also, please note that once paid, you cannot cancel the payments made via Messenger. Therefore, it's advised to be careful and double-sure when you want to Send or receive money on Messenger.
However, the beneficiary can reject the payment if needed. Moreover, you can set up a PIN for added security. Nevertheless, Facebook follows a strict policy on Data Security thereby, ensuring that your information is protected from theft and other unauthorized activities. At the same time, the transaction details (name, profile photo, and amount) are saved on Facebook servers. Hence, it's advised to keep your data as private as possible. Also, paying one-on-one is suggested since in group payment cases, your payment details are visible to group members.
Read: Best Facebook Messenger apps for Windows PC
Why can't I use Facebook Pay on Messenger?
If you cannot use Facebook Pay on Messenger, it could be because you or the beneficiary don't live in the U.S. or the currently available locations. It could also be possible that you (payee) or the beneficiary is not 18 years old, or you do not have a payment method linked to your account.
Is Facebook Pay on WhatsApp?
You can set up Meta Pay on platforms like Messenger, WhatsApp, and Instagram to Send or receive money. However, it's available only in selected countries that exclude India. All you need to do is to add a payment method and you are all set to use Meta Pay on WhatsApp. Meta Pay has recently launched UPI payments for WhatsApp business messaging in India.