Social networking sites like Facebook demand your constant attention. As such, they require you to sign in to your respective browsers to have agreed to receive notifications. Google Chrome is by far the most preferred browser for computer users and it is no exception to this rule. That said, constant beeps and bell sounds can distract you from your work. If you want these notifications from Facebook not to bother you, it is best to have them disabled. Here's how you can turn off or disable Facebook Notifications in Chrome.
Disable Facebook notifications in Chrome
By default, the Chrome browser alerts you whenever a website, an app, or extension wants to send you notifications. So, if you recently noticed 'Desktop Notifications are on' popup message while accessing your Facebook account in Chrome, and if unknowingly you've clicked 'OK' button, you are likely to see push notifications from Facebook page appearing in the corner of the screen, every time. Nevertheless, the user is at the discretion to have it changed at any given time.
To disable Facebook notifications in Chrome, follow these steps:
Launch Chrome
Click on 3-dots > Settings
Select Privacy and Security
Click on Site Settings
Click Notifications
Locate facebook.com
Opt to Block its notifications.
First things first, open your Google Chrome browser. Move the cursor of the mouse in the upper right-hand corner of your computer screen.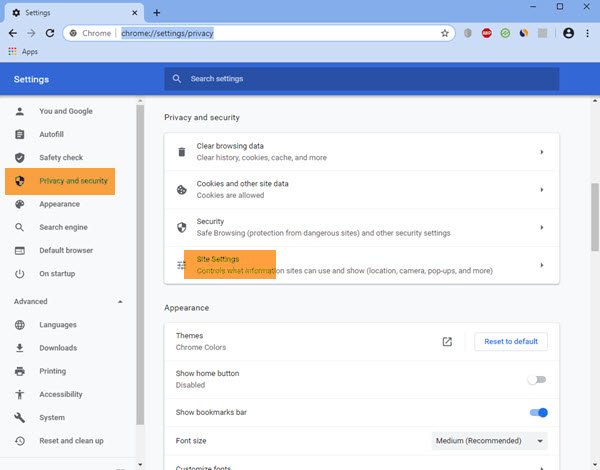 Next, click on the 3-dot icon and from the list of options displayed, select 'Settings'.
Thereafter, scroll down to find 'Show advanced settings'.
Next, under 'Privacy and Security' section, look for 'Site Settings'. When found, click the option.
Scroll down to 'Notification' section. Here you can enable or disable desktop notifications.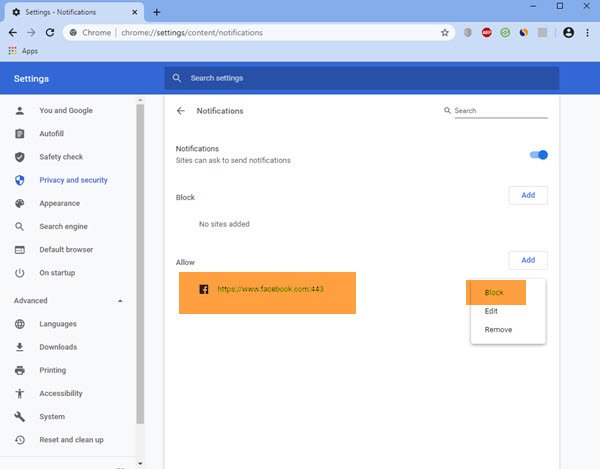 Look for 'https://www.facebook.com/' and from the 3-dot icon, change the option from 'Allow' to 'Block'.
Click 'Done'.
You could also, alternatively, directly visit this URL to open these settings:
chrome://settings/content/notifications
That's it! This way you can choose whether or not you wish to be notified by Facebook.
The issue caught my attention when for the last few days I observed Facebook was throwing notifications at the bottom right corner of my computer screen.
Let us know if the method works for you in the comments section below.