With reports of many Google Chrome add-ons turning malicious, you are never really sure which extension is carrying what into your Windows PC. It could be a case that you still don't know that the recently installed extension has been flagged as adware and might trouble your PC sooner or later. So what you would do to avoid becoming a victim here. Chrome Extension Shield Pro, a Chrome extension, lets you know if you are running one of the Chrome add-ons identified as malware, spyware, or malware.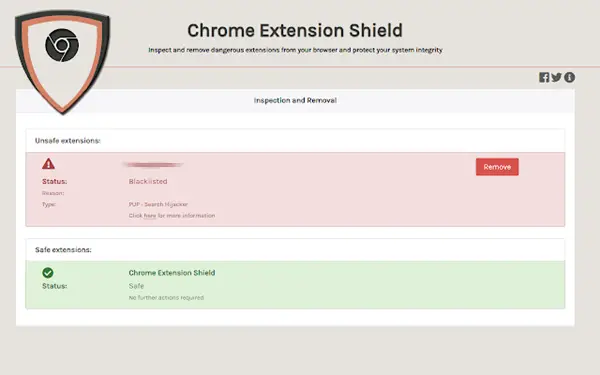 Chrome Extension Shield Pro protects you from malicious Chrome extensions
Chrome Extension Shield Pro, formerly known as ExtShield Chrome Protector, shields your PC from more than 100 adware, spyware or malware extensions that are currently available in Chrome web store and used by millions. The other advantage is that it is designed to update its blacklist of the new add-ons keeping your PC safe from newer threats.
Features of Chrome Extension Shield Pro

Stops over 100  adware, malware and spyware add-ons currently present in the chrome web store
As shown below, ExtShield warns you when you install or view a blacklisted extension.
Minimizes tracking and ads, even when an adware/spyware extension is installed.
Monitors non-blacklisted extensions behavior to detect malicious patterns.
Shield code is protected to avoid bypassing by malware creators.
Using Chrome Extension Shield Pro

Chrome Extension Shield Pro is available for free at the Chrome Webstore. Once installed, you can click on the shield located at the right-hand top corner of your webpage to know the status of your other installed extensions.
To install Chrome Extension Shield Pro you need to give following permissions:
Access to your data on all websites
Access your tabs and browsing activity
Manage your apps, extensions, and themes.
Once installed, Chrome Extension Shield Pro tracks the add-ons being added to your PC and notify you if you install something that is catching your activity. You can then click that extension that you are using and check it against the blacklist.
You can check for suspicious add-ons anytime by clicking onto the Chrome Extension Shield Pro icon. When I clicked on it, I got the message of No Malware presence on my PC.
The developer advises a central knowledge center for a real-time update of the blacklist. All it is expected that in future Chrome Extension Shield Pro shall notify the users if an installed extension is suspected to be a malware or adware.
You can download Chrome Extension Shield Pro from Google Webstore and start tracking the malicious extensions immediately.