In case you need to analyze your Windows PC to know what applications have been running on it in the past, freeware ExecutedProgramsList is a free tool that will do just that for you. It is a simple, user-friendly software with the help of which you can analyze the apps and find out what applications have been running on your system. There is simply no expertise required to use this freeware, even a beginner-level user with basic knowledge of PC can use this software.
Display Executed Programs List in Windows 11/10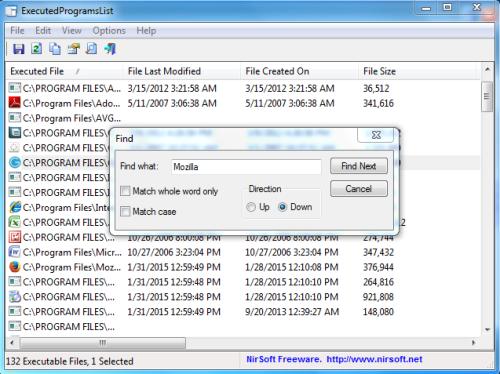 The basic function of ExecutedProgramsList freeware is to display the list of apps and batch files that have previously run on your PC. ExecutedProgramsList has many features that can help the user to analyze the apps and get the most information about the past applications that had worked on the system. Some of these features are as follows:
Portability: In order to analyze the apps, ExecutedProgramsList can run from any folder where it is being stored. It does not need any installation and since it is portable it can easily be carried away anywhere. You can copy it to any device and can directly run it from there to get the required information.
App Information: As soon as you run ExecutedProgramsList, a list will be displayed showing all the applications that had run on the system in the past together with other information like file size, attributes, and description, product version, etc. with the date when the application was run last
Export: Using the Find function you can search for a certain program and export it to TXT, CSV, HTML, HTM or XML files, in order to analyze it later.
Report: If required you can create an HTML report with all the entries in the ExecutedProgramsList list so that later you can run that report and take some information from it in the future.
There are server Registry Keys that store the information about the programs that were being executed on the system previously. These are as follows-
HKEY_CURRENT_USER\Software\Classes\Local Settings\Software\Microsoft\Windows\Shell\MuiCache
HKEY_CURRENT_USER\Software\Microsoft\Windows\ShellNoRoam\MUICache
HKEY_CURRENT_USER\Software\Microsoft\Windows NT\CurrentVersion\AppCompatFlags\Compatibility Assistant\Persisted
HKEY_CURRENT_USER\Software\Microsoft\Windows NT\CurrentVersion\AppCompatFlags\Compatibility Assistant\Store
Two ways can help you to view the previous programs that were running on your system. First, one is to go and check Windows Registry and Prefetch data manually and the second is to use the software 'ExecutedProgramsList' to analyze the apps.
All you need to do is just download the software from its home page, and start using it by running the .exe file. You can save or copy the selected items, view their properties, and get all the related information of each and every application present in the list.
What is the difference between bat and exe?
The BAT file is a text file that can be used to run other programs or commands in a sequence. The EXE file is a binary file that contains code or commands that can be executed by the System on a lower level if needed. It can be used for almost anything. Right from installing a program to deploying a virus. It is the primary reason why all EXE files are blocked and scanned by browsers and operating systems.