If you encounter either Error Code 15 or Error Code 16 while browsing the Internet and you find that your access is blocked to a particular website, then this post may help you. Both the Error Code 15 and Error Code 16 state-
Access Denied: This request was blocked by the security rules.
This error depends on the browser, the operating system as well as the network that you are using. This error can occur on any browser, but the fixes are common across them all.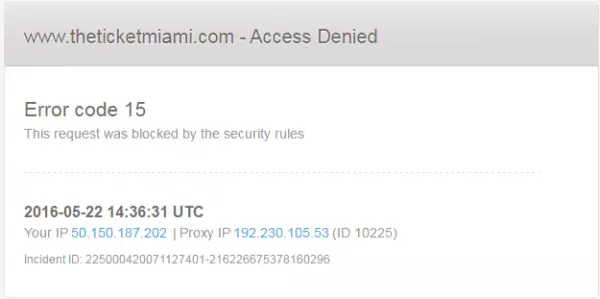 Error code 15 & Error code 16: This request was blocked by the security rules
We will be discussing the following fixes to get rid of Error Code 15 and Error Code 16 on Web Browser on Windows 11/10,
Check your connection.
Sync the Date and Time.
Reset your browser.
Disable your Antivirus or Firewall.
1] Check your connection
In Windows 11/10, there is an option in the Settings panel, which you can use to set up a proxy. If you are getting this error message, you should disable it temporarily and check if the problem remains or not. For that, open Windows Settings by pressing Win + I button and going to Network & Internet > Proxy.
On your right-hand side, make sure the Automatically detect settings is enabled and Use a proxy server option is disabled under Manual proxy setup.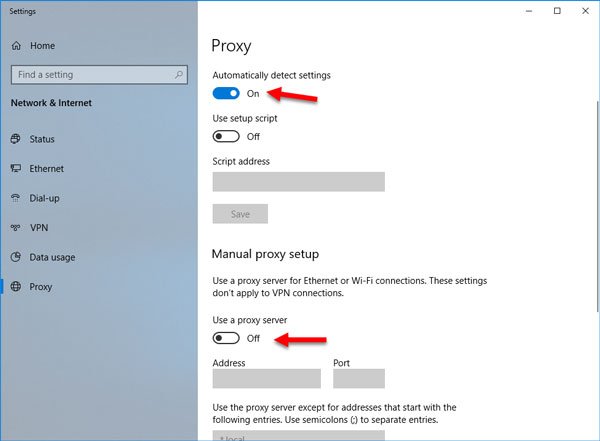 Now check if you can open a website or not.
If you are using a VPN app, there is a chance to get this error message. In that case, you should do these:
Disable the VPN temporarily and check if you can open the website or not.
Change server and check if it is opening or not.
Change the VPN app if nothing's working.
Disable proxy server for your LAN.
2] Sync the Date and Time
Wrong Date and Time settings on Windows 10 can also cause conflicts like this. This is due to the incompatibility between the SSL Certificate validation date and the System Clock. Hence, the user should sync their System Clock.
To do this, start by right-clicking on the Taskbar and click on Adjust Date and Time.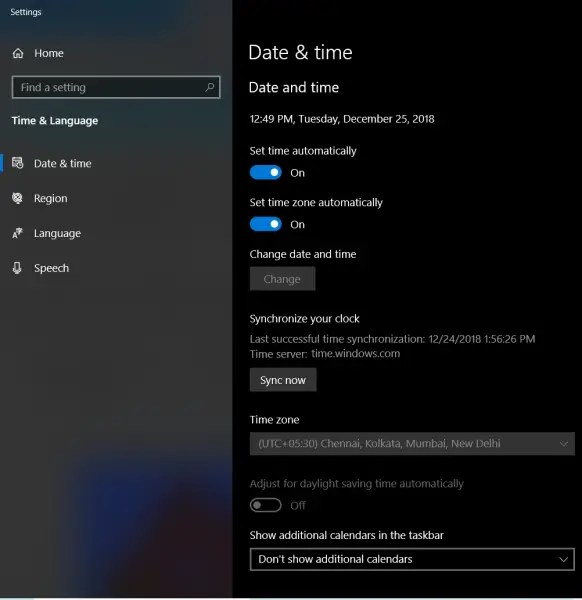 Click on a button that says Sync Now. It will synchronize the Date and Time with the Microsoft Servers.
All you need to make sure is that the Time Zone set on the same page is correct.
3] Reset your Browser
Resetting your browser will get you rid of all browser-related issues. You can learn more about how to reset Microsoft Edge, reset Google Chrome, reset Internet Explorer, or reset Mozilla Firefox in our guides. This will return your web browser to its default state with the OOBE.
4] Disable your Antivirus or Firewall
You can temporarily disable Windows Defender which is installed out of the box on your Windows 10 computer. Or you can also disable your Windows Firewall and check if that fixes the errors that you are encountering. If you use a third-party security software, you may temporarily disable it and see.
5] Disable Proxy server for your LAN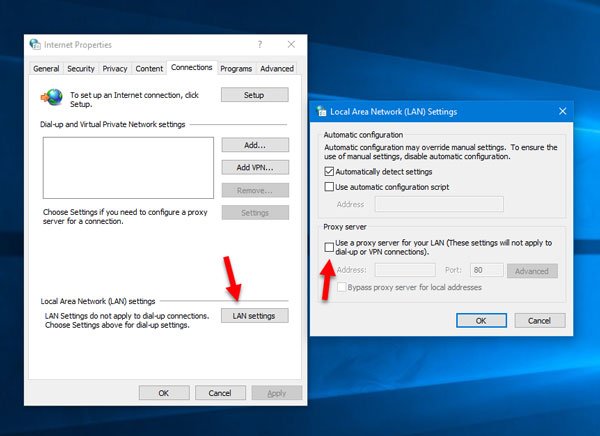 If your computer was recently attacked by malware or adware, there is a chance that it has changed your network settings to show custom spammy advertisements. This is a common situation when they change a setting in your system.
If so, you need to change it back. For that, search for Internet Options in the Cortana search box and open it. Following that, switch to Connections tab and click the LAN settings button. In this page, you should find an option called Use a proxy server for your LAN. If it is checked, you need to remove the tick to uncheck and save your settings.
All the best!