Some consumers have reported that when installing office, it doesn't work as expected. The Office installation doesn't start at all. When the installation cannot proceed for too long, you may get an error message that contains error code 0-1018:
We're sorry, but we could not start your Office installation. Another installation is in progress; please try again later.
Error code 0-1018 when installing Office
The error usually occurs when an Office install or update or any other application is already running. The best way to go ahead is to check if there is an Office installation icon in the system tray. If yes, it means installation is already in progress. You will have to wait until it finishes. If you don't see any installation in progress, then it says the installation stopped prematurely.
Another installation is in progress
There are two ways to fix it. First is to uninstall incomplete office installation, and second is to stop the Windows Installer service. Post these; you will have reinstall Office again.
1] Uninstall and reinstall Office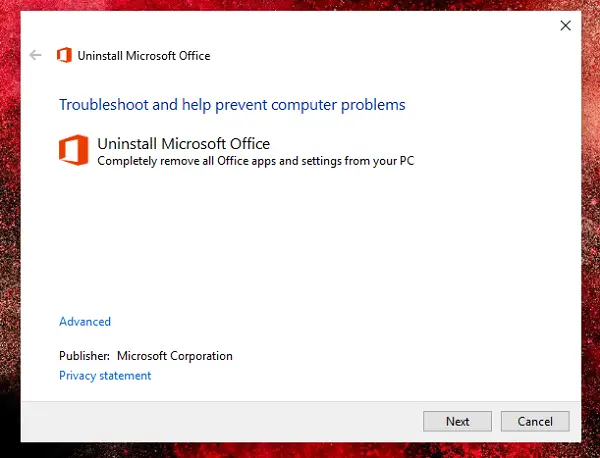 Download the Microsoft Office Uninstall Tool from Microsoft. Run it, and it will remove any incomplete Office installation and the unwanted files. After completing the installation, the Uninstall Office products window will open.
Select the version you want to uninstall, and then select Next.
Follow through the remaining screens. You will get a prompt to restart your computer.
After the restart, the uninstallation tool will automatically re-open the final step windows. Complete the final steps, and follow the remaining prompts.
2] Restart Windows Installer
Usually, the Windows Installer is responsible for all the installation process. If the installation is stuck for too long, it is best to exit the Office installation, restart the Windows Installer service and try again.
These tips should help you resolve the Office installation issue.
Make sure that you choose the right version when installing Office; else you will run into another problem.