Office installation error codes 30102-11, 30102-13, 30103-11, or 30103-13 usually occur when the system runs low on disk space. While we can free up disk space, the error is also related to some other issues which can be resolved by anyone with a bit of technical knowledge.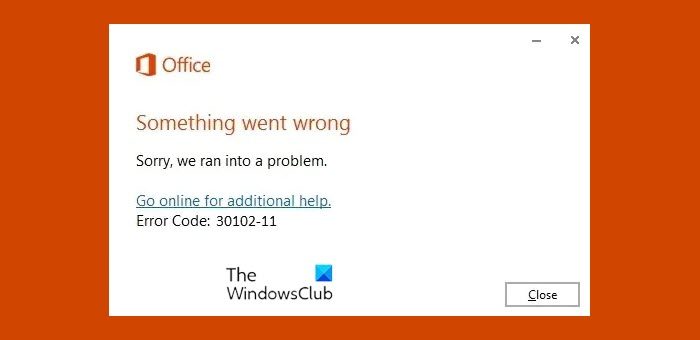 Fix 30102-11, 30102-13, 30103-11, or 30103-13 Office installation errors
Something went wrong, Sorry, we ran into a problem.
1] Clean up your disk space
Low storage space can almost bring anything to standstill. Right from Windows Update to the opening of files. Windows 11/10 offers an inbuilt solution to clear up storage space occupied by unnecessary files. If you wish, you can also use third-party storage cleaner to find files that cannot be located by Windows.
2] Restart your device and try to install Office again
Master of all solutions – Restart. Do this once, and then install Office again. It is possible that some installer service might have got the Windows installation process stuck. You can also choose to kill the existing Windows Installer process and try to install Office.
3] Verify that you have the latest Windows updates installed
Go to Settings > Update & Security > Windows Update. Check if there is any installation pending. Some installs need to restart the computer. If there is an update pending, complete the process.
4] Run System File Checker to repair missing or corrupted system files
SFC or system file checker can help you fix corrupt files, which might be why Office installation is stuck. Once SFC verifies file integrity, the installation process should resume.
Read: We had a problem installing your Office programs
I hope something here helps you.