Some users are unable to install games or their updates from the Epic Game Store as they get Install Failed Error Code II-E1003. Even though this is an installation error, sometimes, the files that are to be installed do not get downloaded. In this guide, we will talk about this issue and see what you can do if you receive Epic Games Install Failed Error Code II-E1003 on Windows PC.
What does Error Code II-E1003 mean?
Epic Game Error Code II-E1003 means that the launcher is unable to download the game files which it is trying to install. This usually happens when the cache of Epic Games is corrupted. However, there are some other reasons, hence, solutions that we will discuss hereinafter.
Fix Epic Games Install Failed Error Code II-E1003
If you get Epic Games Install Failed Error Code II-E1003, follow the below solutions.
Run Epic Games as an administrator
Clear Epic Games Cache
Verify game files
Reinstall Epic Games
Let us talk about them in detail.
1] Run Epic Games as an administrator
The very first thing we need to do if the games or update is not getting installed is to run the Epic Games launcher with administrative rights. This is a very simple trick and it gives the launcher permissions required to access files install on your computer. Therefore, if the issue is a result of a lack of permissions, running Epic Games as an administrator will do the trick. All you have to do is right-click on the launcher and select Run as administrator. This will do the job for you.
2] Clear Epic Games Cache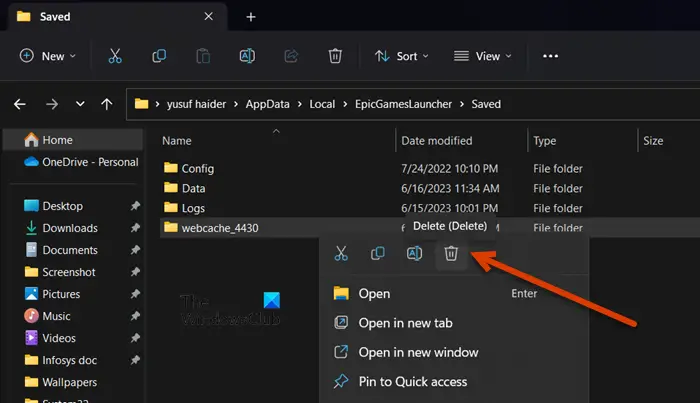 Caches are information stored on your computer that the app uses to access frequently used data quickly. However, it is very likely that the caches themselves are corrupted. This causes a problem when the Epic Game services try to access the cache they can't. That is why we will clear the cache of Epic Games and let it create new and fresh ones. To do the same, follow the steps mentioned below.
Close Epic Games completely. For that, you have to click on the Close button of the app, then open Task Manager, look for running instances of Epic Games, right-click on them and select End Task.
Open Run by Win + R.
Type "%localappdata%" and click on the Ok button.
Open EpicGamesLauncher folder
Navigate to the Saved folder.
Look for webcache, webcache_4147 or webcache_4430. Do keep in mind that you may have either one or two of these folders.
You need to delete the ones present.
Once you have deleted the Epic Games folder, restart your computer and check if the issue is resolved.
3] Verify game files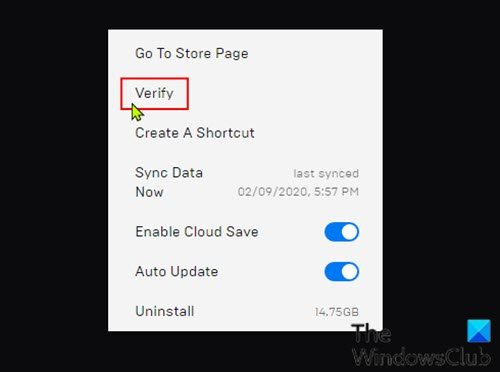 In case you get the installation error when you update an already installed game, the game files are likely corrupted. In that case, we have to verify the integrity of game files. We can pretty easily do this using a built-in tool from the Epic Games launcher. Follow the steps mentioned below to do the same.
Launch the Epic Games Launcher by searching it out of the Start Menu.
Now, go to the Library.
Navigate to your game, click on the three dots, and select Manage.
Click on Verify placed next to Verify Files.
Finally, check if the issue is resolved.
Read: Fix Epic Games Error Code LS-0006
4] Reinstall Epic Games
If nothing worked, our last resort is to uninstall the Epic Games launcher from our system and install its fresh copy. This way, we can repair the corrupted installation media that could have caused this issue. We are going to completely remove the application from your system. To do the same, follow the steps mentioned below.
Open File Explorer and then navigate to the following location.

C:\Program Files\Epic Games
OR
C:\Program Files (x86)\Epic Games

Now, take a backup of the game and delete all of the content inside the folder.
Once done, open Settings.
Now, navigate to Apps > Installed apps or Apps & features.

Windows 11: Click on the three dots and select Uninstall.
Windows 10: Click on the app and then click on the Uninstall button.

Click on the Uninstall button again to confirm your action.
Once we have uninstalled the launcher, go to store.epicgames.com to download a fresh copy of the same. Finally, check if the issue is resolved.
We hope you can resolve the issue using the solutions mentioned in this post.
Read: How to transfer Steam, Epic, Origin, Uplay games to new PC?
How do I fix Epic Games installation error?
There are various installation Epic Games installation errors. Every error code has a meaning to it. However, most of them can be easily resolved by removing the corrupted cache of the Epic Games launcher. If that doesn't work, execute other solutions mentioned in this post.
Also read: Epic Games Error Code 200_001.