Maybe there was a time when you wanted to lock away certain pages in a PDF, but you didn't have the tools to get it done. Well, those days are over due to the release of an interesting software known as PDF Page Lock. The tools allow for the locking of any document as a PDF file with an encryption key. Furthermore, with the intuitive and easy-to-understand menu system, users should have little problems navigating and understanding everything the tool has to offer.
If you want to password-protect your PDF documents from outside interference, then PDF Page Lock for Windows PC will let you easily encrypt PDF files.
Encrypt PDF files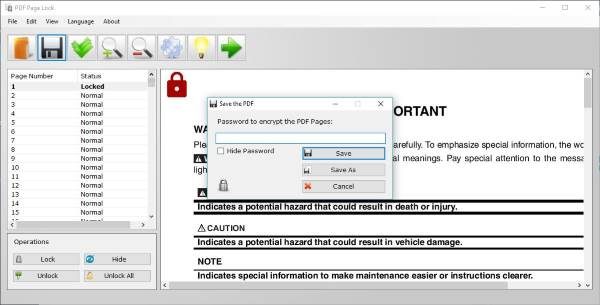 Once you have downloaded and installed this free PDF encryption software on your Windows PC, then on the left, you should see a panel that showcases the status of all pages in an open document. Now, at the very bottom of this same panel, there are four options: Lock, Hide, Lock All, and Unlock All.
You are required to use these buttons to lock and unlock pages whenever the need arises. Just select the page you want to block or unblock, and simply click on one of the operations to get the job done.
So, how do we encrypt PDF
You'll find out that PDF Page Lock comes with a preview pane that gives the user the ability to look at pages he or she wants to block or unblock. We like this feature because it prevents the accidental hiding of pages or documents.
When it comes down to creating an encryption password, just select the document from the left pane, lock it by using the Lock option at the bottom, then click on the Save icon to add your encryption password.
After many testing, we can say for sure that PDF Page Lock tends to lock every document, even if the document is long with a lot of words. Not to mention, it does this task in no time, so if you're running an older computer, it should work just the same.
The Settings area
By clicking on the gear icon, you'll bring up the Settings window. Here you can back up the original PDF document to a .bak file, open the PDF file are saving, and enter compatible mode.
Overall, we're quite pleased with PDF Page Lock because it does what it says it can do. Not only does it encrypt your PDF files, everything is done in a fast manner.
It's great for locking important pages, you know, the ones no one else but you should be looking at. These can include business-related documents to those on a personal level. Whatever the situation, PDF Page Lock is satisfactory enough.
Unfortunately, we do not know the type of encryption method the program uses and how durable it is against outside attacks.
PDF Page Lock free download
Download the software via the official website.
This post will show you how to remove a Password from PDF.