In this post, we will show you how to enable the tab groups name suggestion feature in the Microsoft Edge browser on a Windows 11/10 computer. As we all know, Microsoft Edge already provides a tab group feature. You can right-click on a tab or multiple selected tabs, use the Add tabs to new group option, and then give a custom name to that particular name group. But now, the Edge browser will automatically suggest you a tab group name while creating a group and then add it to the Name this group field.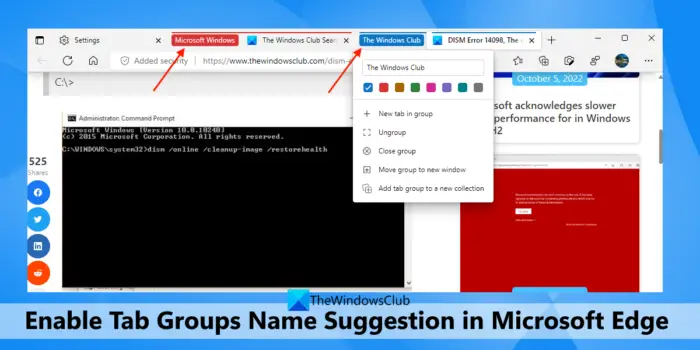 That can be a bit of help when you are not able to find a suitable name for your tab group. It will be your choice only if you have to keep that name. If you want to use this feature, you must be using Microsoft Edge version 107.0.1390.0 or higher. As of now, this feature is in the Canary build of the Edge browser and is slowly rolling out to users.
Enable Tab Groups Name Suggestion in Microsoft Edge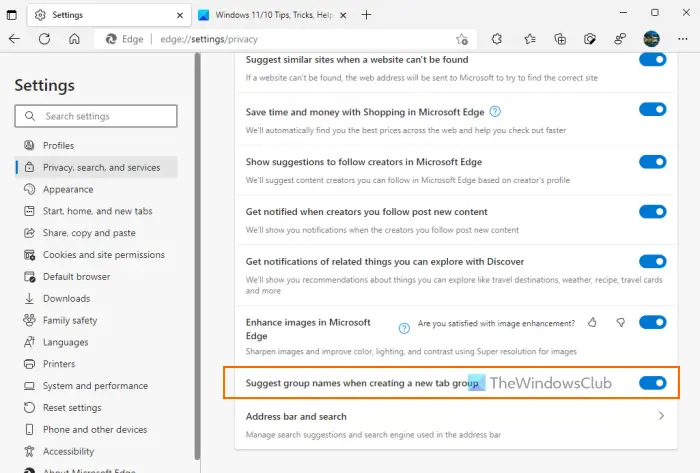 If you want to enable tab groups name suggestion in Microsoft Edge on a Windows 11/10 computer, then use the following steps:
First of all, update the Microsoft Edge browser if you haven't already
Launch the Edge browser
Use the Alt+F hotkey or simply click on the Settings and more icon (three vertical dots) from the top right corner
Use the Settings option
In the Settings tab, click on the Privacy, search, and services option from the left section
Scroll down the page to the Services section
Turn on the Suggest group names when creating a new tab group button.
That's it! The new setting is applied successfully and instantly.
Read: How to enable and Sync Microsoft Edge Tabs across Devices
Automatically add a group name for tabs based on the suggestion in Edge
Now open some tabs that you want to add to a group. Press and hold the Ctrl key and use the left mouse button to select tabs. Right-click on the selected tabs and use Add tabs to new group option. Now as soon as the tab group box will open, it will automatically add the group name in the associated field.
If you are wondering how it suggests a group name, then as per what I found, the suggestion is based on the search result query or tab titles for a tab group name. For example, if you have searched for The Windows Club in Google search and you try to add that tab to a group, it will automatically suggest and add The Windows Club as the tab group name.
If you like the suggestion, keep it, or use your own tab group name. It doesn't provide any refresh button or similar option to get more suggestions. So, you can continue with that name or change it.
I hope this is helpful.
Also read: How to close Tabs with double click in Edge, Firefox, Vivaldi
How do you name a tab group?
The feature to give a name to individual tabs is not present in Microsoft Edge. But you can add tabs to a group and then give a name to that particular tab group. Or else, you can also enable the tab groups name suggestion feature to let Edge browser automatically suggest and add a name for your tab group. Read this post that includes step-by-step instructions to use this feature.
How do I restore a group tab in Edge?
If you accidentally closed a tab group in the Edge browser, then press the Ctrl+Shift+T hotkey and it will restore that group instantly. You can also access the Recently closed section on the Edge History page and click on a tab group to restore it.
Read next: Microsoft Edge Bar, Edge Sidebar and Edge Office Bar explained.