Windows 10 Settings offers a page that allows you to configure Sharing options for the UWP apps. But it is hidden by default, for some reason. But by modifying the Windows Registry, you can enable this option and make Settings show the Share settings too.
Whenever you use the Share button in File Explorer or in a Windows Store app like Mail, Twitter, etc, the Share panel appears from the right side showing you the target apps. Using the Share settings you can configure a few options. You can enable this secret Share settings page in Windows 10 Settings by modifying the Registry as shown below.
Enable Share settings page in Windows 10 Settings
In the Start Search, type regedit and hit Enter to open the Registry Editor. Navigate to the following key:
HKEY_CURRENT_USER\Control Panel
Right-click on Control Panel > New > Dword (32-bit) Value. Name this newly created Dword as EnableShareSettings.
Double-click EnableShareSettings and set its value data to 1.
Now from the WinX Menu, open Settings > System and scroll down.
You will see a new Share settings section!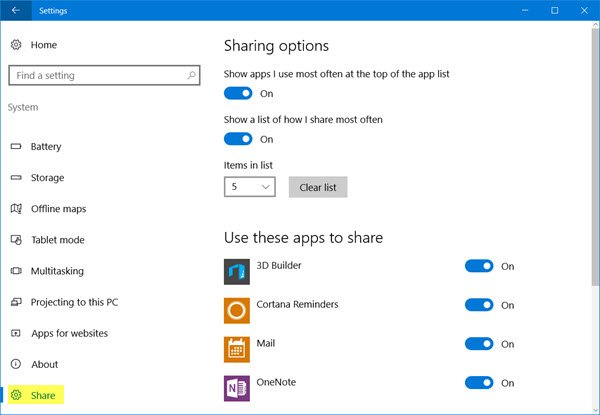 Here you can choose to set On or Off:
Show apps I use most often at the top of the app list.
Show a list of how I share most often.
Select the number of apps to show in the list.
You can also select to show the apps to share by toggling the slider against each app to the On or Off position.
Credit: kw259.
UPDATE: You can now also Enable Share settings page using our freeware Ultimate Windows Tweaker.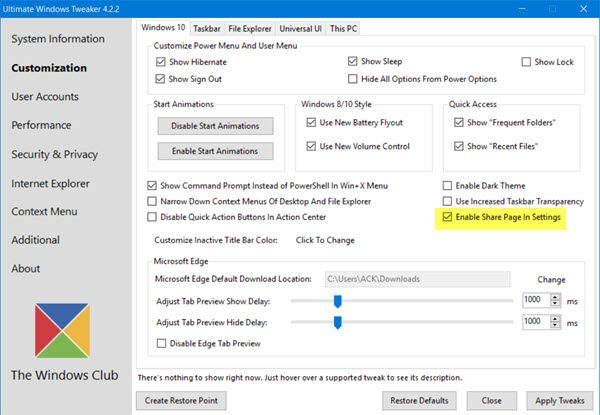 This setting is available under Customization > Windows 10.