If you want to enable extensions in InPrivate mode in Edge, this tutorial will show you how to do that. You can allow a specific extension or multiple extensions in the InPrivate browsing mode.
As you can install Google Chrome extensions on Microsoft Edge, you might need to use some while using the private browsing mode. Google Chrome and Mozilla Firefox allow users to use any installed extension in Incognito mode. It doesn't matter whether you use Edge as your default browser or not; you can enable any installed extension in InPrivate browsing mode.
Do extensions work in InPrivate mode?
Yes, you can make extensions work in InPrivate mode. You will see the setting in your browser's Settings > Extensions section, as explained in this post.
How to enable extensions in Edge's InPrivate mode
To enable or disable extensions in InPrivate browsing mode of Microsoft Edge browser, follow these steps-
Open the Microsoft Edge browser.
Click the Settings and more button.
Select the Extensions option from the list.
Choose an extension that you want to enable in InPrivate mode.
Click the Details button under the extension name.
Tick the Allow in InPrivate checkbox.
Use the extension in InPrivate mode.
Let's delve into the steps in detail.
At first, you need to open the Microsoft Edge browser on your computer and make sure that the desired extension is already installed.
If so, you can click the Settings and more button that looks like a three-dotted icon and visible on the top-right corner of the browser window. Alternatively, you can press Alt+F button as well. Now, you need to click on the Extensions option on the list.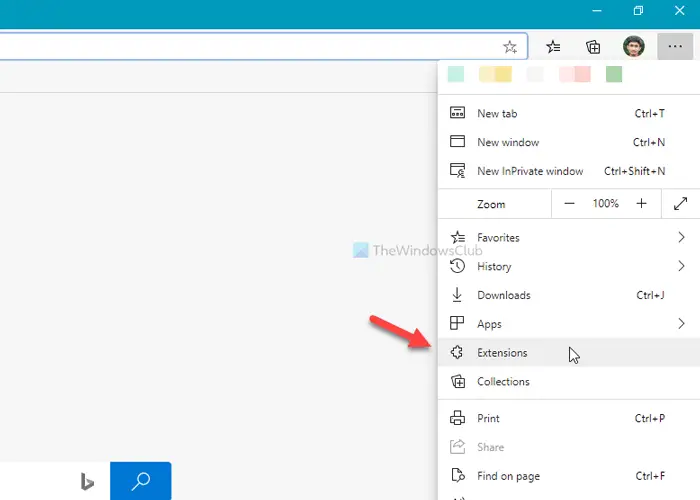 If you do not want to go through these two steps, you can type edge://extensions/ in the address bar, and hit the Enter button.
After opening the Extensions page, you can see all the installed enabled and disabled extensions on your screen. Y
ou need to choose an extension that you want to allow in the InPrivate mode. Following that, click the corresponding Details button.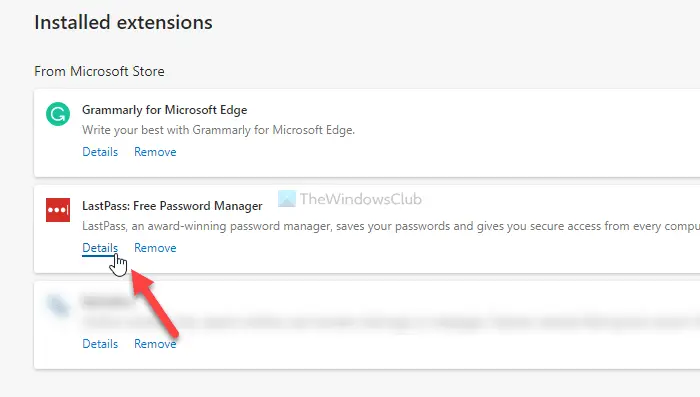 It should open the Details page of that extension you selected earlier. Here you can find an option called Allow in InPrivate.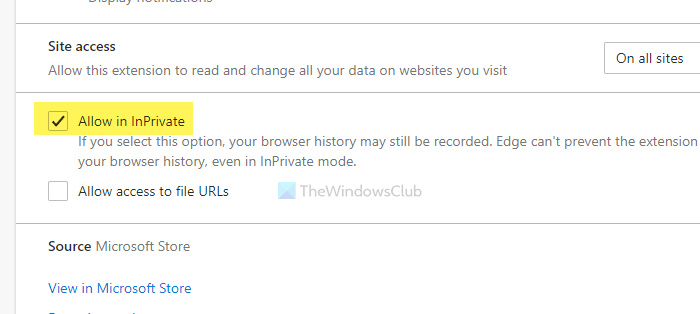 It would help if you made a tick in the Allow in InPrivate checkbox.
After doing it, the selected extension would be visible in the InPrivate browsing mode. Also, make sure that the extension is enabled to use it in your browser.
Trust this works for you.
What does InPrivate browsing mean in Edge?
When you use InPrivate Mode, your browser's history, cookie store, or search history will be deleted after you've closed all of your tabs. Any files you download or bookmarks you create will be kept. However, you aren't invisible. Going incognito doesn't hide your browsing from your employer, your internet service provider, or the websites you visit. https://www.thewindowsclub.com/chrome-incognito-mode-safe
Read next: How to manage, add, remove Extensions in Microsoft Edge browser.