A new feature made its way to the stable version of the Chromium-based Edge browser this month. It lets Edge users decide what course of action they should follow, every time a file is downloaded (whether to open the file without saving or save the file). So, let's see how to enable 'Microsoft Edge new download UI'.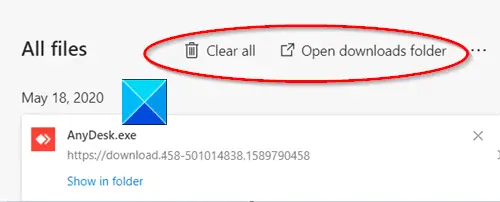 In addition to the above, Edge will also let its users delete downloads directly from the browser downloads page to keep the downloads folder clean. Simply head over to edge://downloads/all and select 'Delete file'.
Enable new Download User Interface in Microsoft Edge
Like Google Chrome, Microsoft Edge receives new updates every six weeks. That way, users don't have to wait for long for every major OS updates to get their browser updates too.
Launch the new Microsoft Edge browser.
Click Settings and more.
Select Settings.
Go to Downloads.
Enable 'Ask me what to do with each download'.
Let's cover the above steps in a bit of detail!
Open the Edge browser. If you are not running the latest version of the browser, update it!
Click Settings and more, visible as 3 horizontal dots in the upper-right corner of your browser window.
Select Settings and go to Downloads, seen in the left sidebar.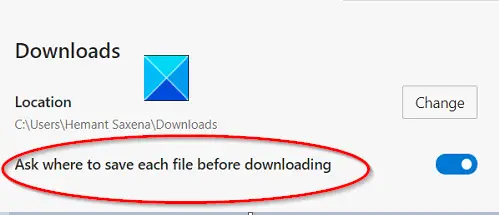 When the Downloads window opens, enable Ask where to save each file before downloading option by moving the slider to 'On' position.
Besides the above, Microsoft Edge is also planning to re-introduce some of the features like Open, Save, Save As for a file download, seen in the earlier versions of the browser. These options provided users more control over the file that was being downloaded, in comparison to Chromium's generic download dialog.
For now, they can be enabled in Edge Canary and Dev version behind a setting – but they will appear in the Stable version soon.
If you have any queries, let us know about them in the comments section below.