Windows 10 will display Enhanced Notifications about malware detection & remediation, and all the activities that it is carrying out on your computer. The idea is to keep you informed at all times about the health status of your Windows PC, and you will see them pop up from the bottom right side of your screen. In this post, we will show you how to Turn On Notifications for Microsoft Defender in Windows Security in Windows 10.

If you were to open the Action Center, you would be able to see them there too.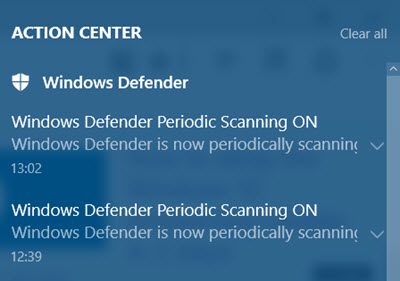 These notifications also appear when manually triggered and scheduled scans are completed and threats are detected.
Turn On Notifications for Microsoft Defender
If you wish to turn on the Windows Defender Notifications on your Windows 10 PC, do the following.
From the Start Menu, open Windows Security
Select Virus and threat protection in the left side
Under Virus and threat protection settings in the right side
Click Manage Settings
On the page which opens, scroll down till the end
Locate Notifications heading
Click Change Notification Settings.
Here you will see settings to:
Get informational notifications

Recent activity and scan results
Threats found
Files or activities that are blocked

Account protection notifications
Mind you, even if you were to disable it, you would still get critical notifications about your system health that need your attention.
This feature is offered only when Windows Defender is enabled and is running as your main real-time security software.