If you find the Win+L shortcut or the WinKey+L or Windows Key + L hotkey, getting in your way, you may want to consider turning off or disabling this combination key on your Windows 11/10/8/7 computer. To do this, you will have to edit the Windows Registry.
The WinKey is the key with the Windows logo shown on it, and it is usually found between the Ctrl and Alt keys on your keyboard. These shortcuts are also known as Microsoft keyboard shortcuts.
If you are sure that you would like to disable the Win+L shortcut, that locks your computer and brings you to the Lock Screen, then read on.
Disable Win+L key & Lock functionality
Once you have created a system restore point or backed up the Registry, open Run, type regedit and hit Enter to open the Registry Editor.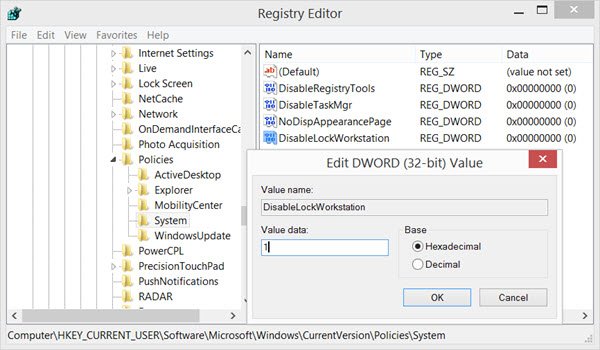 Navigate to the following key:
HKEY_CURRENT_USER\Software\Microsoft\Windows\CurrentVersion\Policies\System
In the right pane, right-click and opt to create a new DWORD 32-bit value. Once you have done this, name it DisableLockWorkstation. Next, double-click on it, and in the Value Data space provided, give it a value of 1, Hexadecimal. Click OK.
A value of 1 will disable the Lock Workstation functionality as well as Win+L
A value of 0 will enable the Lock Workstation functionality as well as Win+L
You may have to restart your computer. After doing this, if you press Win+L hotkey, Windows will not take you to the lock screen. It will just not do anything.
Read: How to disable the Insert Key in Windows 11/10.
Unable to lock computer
If you are unable to lock your Windows computer, you need to ensure that DisableLockWorkstation has a value of 0. This will enable or turn on the Win+L hotkey.
While some of you may want to disable just the Win+L shortcut key, there may be some of you who may want to completely disable Windows key or WinKey – while yet others may want to create your own WinKey shortcuts. These links will tell you how to do so.