Content Advisor is the inbuilt feature of Internet Explorer that allows you to view the content across the web. It is a tool for controlling the types of content that your computer can access on the Internet. After you turn on Content Advisor, only rated content that meets or exceeds your criteria can be viewed. You can adjust the settings to suit your preferences. Parents who are worried about the inappropriate web content, which their children may come around, can use this feature to make the restriction. The tool uses the Platform for Internet Content Selection (PICS) filtering to sweep out the non-suitable content from the Internet. In short, it is a safety mask to web browsing.
Enable Content Advisor In Internet Explorer
If you have used Internet Explorer 8 or below, then in those iterations, Content Advisor was available to configure the browser settings itself, but in newer editions of Internet Explorer 10 and Internet Explorer 11, the feature is not available in Internet Options > Content tab browser settings and you have to first enable it from a different section of Windows. Microsoft has made it this way because not many users made use of it.
This article talks about how to make Content Advisor available in Internet Options Settings, using the Group Policy Editor.
1. Press Windows Key + R combination, type put gpedit.msc in Run dialog box and hit Enter to open the Local Group Policy Editor.
2. Navigate here:
User Configuration -> Administrative Templates -> Windows Components -> Internet Explorer -> Internet Control Panel -> Content Page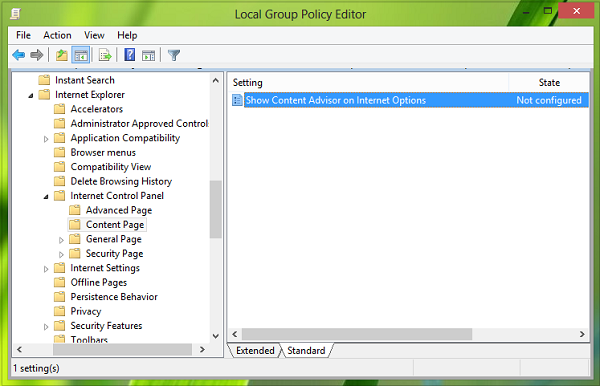 3. At this stage, your Group Policy window would resemble the one shown above. Here double click on the policy Show Content Advisor on Internet Options to get this: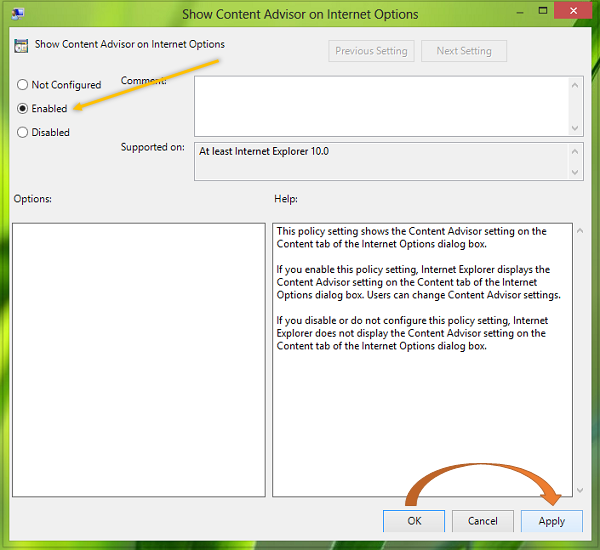 4. In the above-shown window, firstly select Enabled and then click on Apply followed by OK. You may now close the Local Group Policy Editor window.
5. Now press Windows Key + R, type inetcpl.cpl in the Run dialog box and hit Enter. Now switch to the Content tab in the following window so appeared: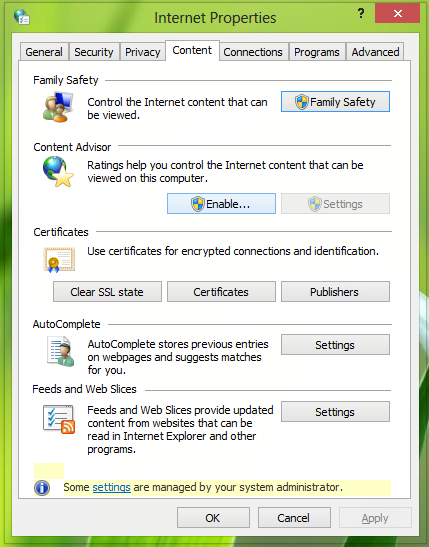 6. For the Content Advisor subheading in Internet Properties window, click Enable. Provide the administrative privileges if required. Now in the following window, you can select what kind of filtering you need according to your requirements. Click Apply, OK when you're done.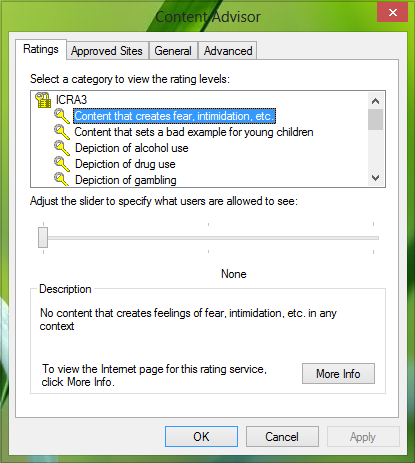 Hope you'll find the feature productive.
Related read: How to set, reset, change Content Advisor settings & password in Internet Options.