The Backspace key on the keyboard has been long used to go back to the previous page when using a browser. However, the key has been disabled on both Chrome and the new Edge Chromium browsers. Even if you press the backspace key, it won't do anything. In this post, we will show how you can enable backspace in both Microsoft Edge and Chrome browsers.
Enable Backspace in Edge & Chrome browsers
The primary reason the backspace was disabled is to make sure that there is no data loss if someone uses it accidentally. One prime case is where you perform a monetary transaction. If you accidentally hit the backspace key, it may result in a double deduction. During any form of submission, the scripts might be performing 2-3 steps, and that's where the problem occurs.
Now that you know why the key is disabled, here is how you can enable it. While it works, be very careful not to hit it during necessary form submission.
Go Back With Backspace extension

Go to the Extension page, and install it on Chrome or Edge
Once installed, it will re-enable the backspace key as a back navigation button
When you are typing anything, it will preserve the Delete function.
The extension is officially from Google.
This extension can't restore backspace on particular individual pages, for example, any of the "chrome://" pages such as Settings or Extensions.
Block Backspace Key for some pages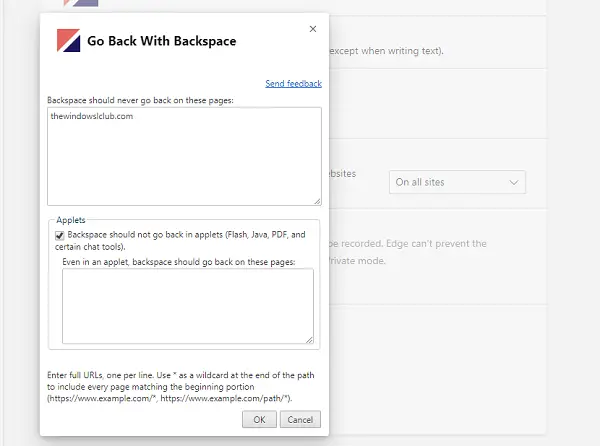 If you want to backspace the key to be disabled for some known pages, you can add them to the configuration list.
Right-click on the extension, and click on Extension options
It will reveal two text boxes

Add websites where it will not work
Backspace disabled for some of the applets like Flash, Java, PDF, etc.
You can also list the URL of such an applet where the backspace will work.
Official support for the backspace key was removed from the Windows 10 Update in October 2018 due to the risk of unexpected data loss. Chrome too removed backspace in Chrome 52. This was confirmed by a Microsoft Engineer, Eric Law [MSFT Edge],  in the Answers forum.
We hope the browser extension helps you enable the backspace key on Chrome and Edge.