With more and more designers turning to Photoshop as an industry standard, more and more tools are available to help designers communicate their designs. While Photoshop is an excellent program to work with, it can sometimes be better to mix it up with some online tools. That's because these tools can help you create or edit designs in a more efficient way. Photoshop creates PSD Files for images, and they can also be edited using online tools. Here is the list of Online Tools to Edit PSD Files.
Edit PSD Files online using these free tools
There are many online tools to edit PSDs and other graphics, such as Photoshop files. The post includes some which can be used easily and offer a familiar interface. These come in handy when you do not have Photoshop installed, but you need to manage the file and make minor edits.
How to Edit PSD Files without using Photoshop
1] Photopea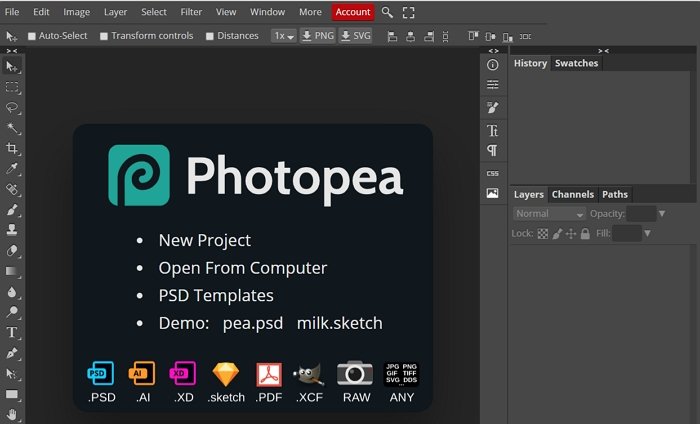 Photopea has unique features that no other website has, such as Smart-merge, which makes the management of layers in your PSD files easier, works with raster and vector graphics, adjusts brightness, contrast, levels, and other image editing feature. It supports layer editing, filters, vector tools, shape editing, smart objects, and more.
2] Pixlr
Pixlr is the ultimate photo editor, with loads of features available to help you edit your photos to perfection. Packed with features, from live filters and stickers to masks and layer effects, Pixlr is designed to make photo editing easy and fun. It lets you perform all the same tasks like Photoshop or Gimp, and it also supports more than a dozen image effects. It also offers image templates, collage maker, background removal.
3] Polar Photo Editor
Being a graphic designer comes with many responsibilities, and sometimes, when you are in a crunch, you need to edit a file in a snap. Polarr Photo Editor is a new and intuitive editor that is built for designers and allows you to edit, optimize and enhance your PSD files without the need to learn Photoshop.
The app is a one-stop-shop for all your Photoshop editing needs, and the editor is compatible with the latest versions of Photoshop and Photoshop Elements. It can automate manual photo editing tasks like rotation, editing, cropping, and straightening.
4] SumoPaint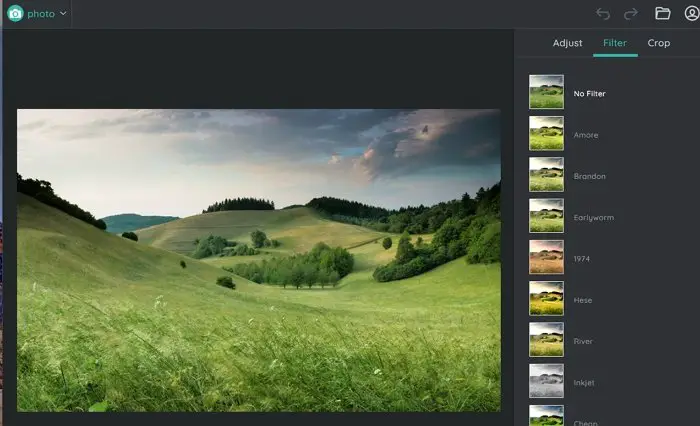 Sumo Paint is a powerful set of tools for Adobe Photoshop, available for both Windows and MacBook. It is a collection of tools that allows you to do more with your Photoshop files. It can open and edit PSD files, adjust selected layers, convert layers to masks, convert masks to layers, convert layers to selections, and convert selections to layers.
The list includes Timing mode, Layer mode, Eraser mod, Brushstroke mode, Color picker, Color picker menu, Watermarking, Brushes, Paintbrush settings, Line width, and thickness, Move, Snap, Scale, Layer, Link; both links can be set to open the file in the native hosting service. Duplicate All layers, Move, Snap Scale, and Link.
Related: Best websites to free download Vector, Icon and PSD files.
How can I edit a PSD file for free?
While these online tools can edit the online files, you can also use GIMP, Paint.Net, XnView, IrfanView, and others to edit the PSD files. However, make sure that there can be limitations.
Related: How to open PSD files without using Adobe Photoshop.
How to edit photos on Free Online Photoshop?
While there is no online version of Photoshop, Adobe does offer Spark, which is available both online and as an application. However, it is not a PSD editor.
With the rise of the Internet and the ease of online collaboration, the wave of Photoshop file sharing has started. It might not be the same as working with pages you and your friends made using Photoshop, but it is definitely worth a shot.
In conclusion, I would like to point out that I think one of the best things about the PSD editing software is that it offers an easy-to-use interface for beginners to get started with photoshop, and it's available for free. Also, it provides an abundance of helpful features and options, especially for those who are just getting started.