These days, many people are learning web and graphic designing. We utilize different design elements like icons, etc. to brighten up a web page or an infographic. Here are some free useful resources to download Vector, Icon and PSD files to enable you to produce a professional design.
Websites to free download Vector, Icon and PSD files
1] Freepik
Freepik is one of the best resources where thousands of vectors, icons and PSD files are available. Anyone from anywhere can download any icon. More than 1 million files are already uploaded by more than 6 lakh users. That means, if you want to upload your work to Freepik, this is also possible. Freepik provides a wide range of graphic resources. You can search by icon name to get the required file. On the other hand, you can use downloaded files in Photoshop and Illustrator. One thing you should know is that not all the files are readily available for commercial purposes. In some cases, you may have to give credit or a trackback.
2] For Designer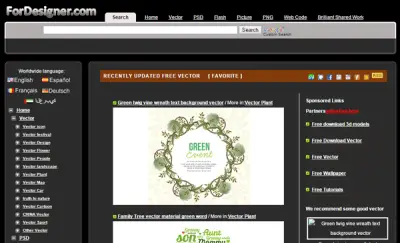 For Designer is the second-best resource for downloading vector icons, vector cartoons, PSD files, Flash files, standard pictures, GIF images and many more. For Designer provides loads of files under those aforementioned categories. This is popular because it offers icon sets. That means you will get the same type of icons with different colors and different changes. For Designer is available in 5 different languages i.e. English, Spanish, French, Dutch, and Arabic. The designer's files are not available for commercial use.
3] Free Vector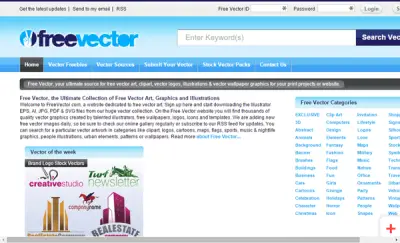 As the name says, Free Vector is absolutely free and you can use their files anywhere. You can use Free Vector for personal usage. All the files are licensed under CC 3.0. That means you can use and share them. But, you must have to give credit to the original creator. Free Vector provides a lot of clip arts. This is also possible to download technology, web, character, holidays, and fantasy-related vectors. This is very easy to download. Just select any file that you want to download and hit the Download button. This website also provides a lot of card designing and they are accessible in Photoshop.
4] Download PSD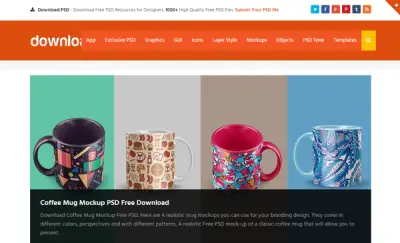 DownloadPSD.com website is probably the best resource for Photoshop learners and professional designers. This website will let you download graphics, icons, mockups, objects and many more. The icon sets are really useful and very lightweight. On the other hand, you can also download various admin setup designs, mobile/PC mockups, website theme templates, and more others. All those kits are available for free, and you can use them almost anywhere. But, you will have to give credit to the original creators. Like Freepik, you can sign up and upload your own work to the Download PSD website.
5] Vecteezy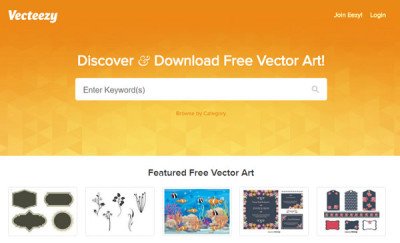 Vecteezy is another resource to download vector art clips that are generally accessible in Adobe Illustrator. Nature, holiday, cartoon, pattern, flower, sports etc. vector arts are most popular on Vecteezy. Some awesome-looking graphics and buttons are also available on Vecteezy. You ought to know that not all images are licensed under the same Creative Commons license. Therefore, you should check the license before downloading.
Vecteezy has a strong network of stock photography and video. If you want to download free stock videos, you can head over to Videezy. Alike For Designer, Vecteezy is available in three different languages i.e. English, Spanish and Portuguese.
6] Vector Portal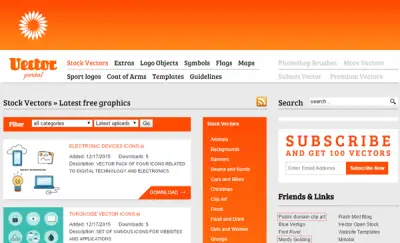 Vector Portal comes with tons of flat icons, which is the most popular category of Vector Portal. Apart from that, you can download random graphics, PSD files, logo objects, symbols, flags, maps and many more. If you want to get the PSD file of various sports clubs' logos, you can head over to the 'Sports Logos' category, where loads of logos are readily available. The most interesting thing is you can download various business card designs, CD/DVD labels, banners, letterheads and many more. Generally, Vector Portal's files are available for free but some files are paid. In addition, this is also possible to upload your own work to Vector Portal.
7] Free Vectors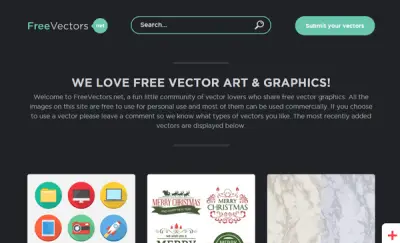 Apart from having graphics, you can download patterns, random designs sports PSD files too. It comes with some restrictions. You can certainly view all the content but you may not republish or duplicate the content. But, this restriction is not applicable to all content. That means you will have to check the license of each content before going ahead. Anyone can submit vector arts and graphics to this website. As of now, more than 8.5k files are already uploaded to Free Vectors.
8] Vector Art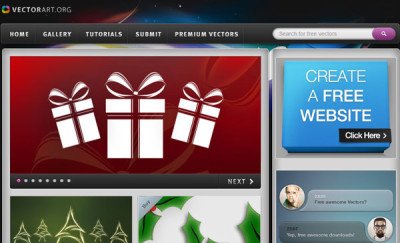 This is yet another resource to download vector arts and graphics. You must have to use Adobe Illustrator to use Vector Art's files. Although the collection is not too large, the files are quite beautiful. You can mainly seasonal graphics from Vector Art. Generally, most of the files are available for free. But, there are many files that need to be purchased. You can use these vectors for commercial purposes. Although credit is not required, a trackback is always safe and good for you.
9] You To Design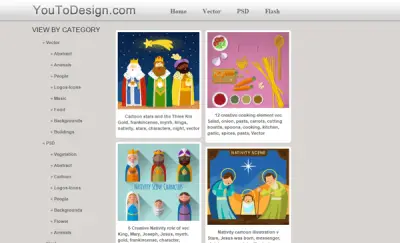 YouToDesign.com is one of the best resources for downloading vectors, PSD files and icons. The most popular tag is 'people'. You can download abstracts, animals, food, building vectors, PSD files (animal, abstract cartoon, logo, etc.) and flash files. You To Design's files are available for free and you can use them anywhere you want. There is no such restriction mentioned on the website. Generally, it provides a standard quality image and .ai file that is accessible from Adobe Illustrator. Some random designs are also available on You To Design. But, one thing you should keep in mind is that these files are really tough to edit. Therefore, you must have good experience to use them properly.
10] Graphic Hive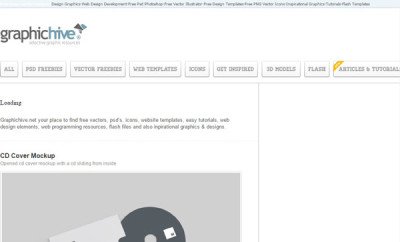 This is mainly for Photoshop users since you can download business card designs, website templates, letter designs, paper mockups, eBook cover designs, book designs and many more. In terms of vector art, you will get various objects under categories like pattern, element, graphics, social, etc. The next big thing is that you can download flash files and icons. Mainly PC and web-related icons are available on GraphicHive. If you are about to use this website, you should know that you cannot use them for commercial purposes.
11] Dribbble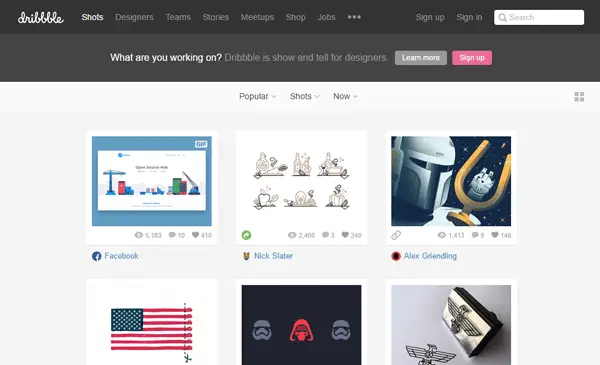 Although, Dribbble is not designed for download seekers yet, you can use their files to learn professional designing. Dribble is mainly designed for making a portfolio. However, some users often offer people to download their work. You will get a wide range of files under some categories like business cards, people, UI, mockups and many more. Their files are generally accessible through Photoshop.
Let us know if you wish to recommend something I missed.