If Microsoft Edge is consuming high CPU resources and memory on macOS, follow these troubleshooting tips and tricks to eliminate that problem. There are different reasons why someone could be facing such an issue. This article features some of the most common and working solutions to eliminate this problem.
Why does Microsoft Edge consume high CPU and memory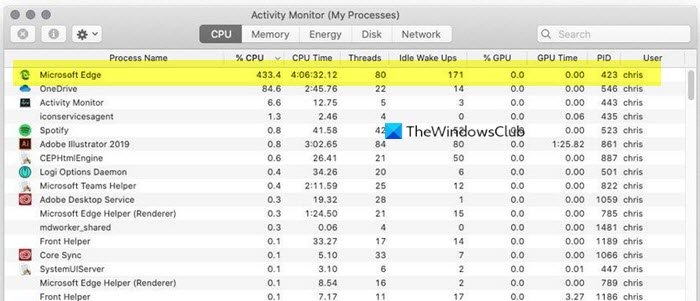 There are several reasons why your instance of Microsoft Edge is consuming so much CPU resources. However, we have enlisted some of the common reasons here:
  The number of opened tabs: More tabs you open, the more resources you require to assign for Microsoft Edge. Not only the Edge browser, but it is right for almost all the browsers available for Mac and Windows OS.
  The number of installed extensions: It is like opening more than a browser window or tab. If you have five high-end extensions, it will consume more resources than having one or two extensions. It is as simple as that.
  Internal file conflict: If your installation has some internal issues, it might cause such a case.
  A new bug or glitch: At any point in time, a bug or glitch may appear and starts consuming more memory than usual.
  Screen resolution: If you have a bigger screen, you must provide more CPU power.
  The number of background processes: You have to limit the number of background processes as it might cause this issue.
Microsoft Edge high CPU & Memory usage on macOS
To fix Microsoft Edge high CPU and memory usage on macOS, follow these tips-
Disable Microsoft Defender SmartScreen
Disable browser extension one at a time
Clear cache and browsing history
Reset Microsoft Edge
Let's check out these solutions in detail.
1] Disable Microsoft Defender SmartScreen
Even though you do not have Microsoft Defender on your Mac computer, the Edge uses a feature partially – Microsoft Defender SmartScreen. It helps you protect your computer from malicious file downloads and websites while using the Microsoft Edge browser. However, as it runs in the background, Edge may continue using more resources than usual. Therefore, it is better to disable this functionality to check whether it is the culprit or not. For that, follow these steps-
Open the Microsoft Edge browser and click on the three-dotted icon. Following that, select Settings from the list and switch to the Privacy, Search, and Services tab. Alternatively, you can enter edge://settings/privacy in the address bar and press the Enter button. After opening the page, scroll down to find out the Security label.
By default, the Microsoft Defender SmartScreen is turned on. You have to toggle the corresponding button to disable this functionality.
Microsoft has released a fix for this issue, so please update your version of Microsoft Edge to the latest version to receive the fix.
Read: Microsoft Edge is slow, not working, or crashes on macOS.
2] Disable browser extension one at a time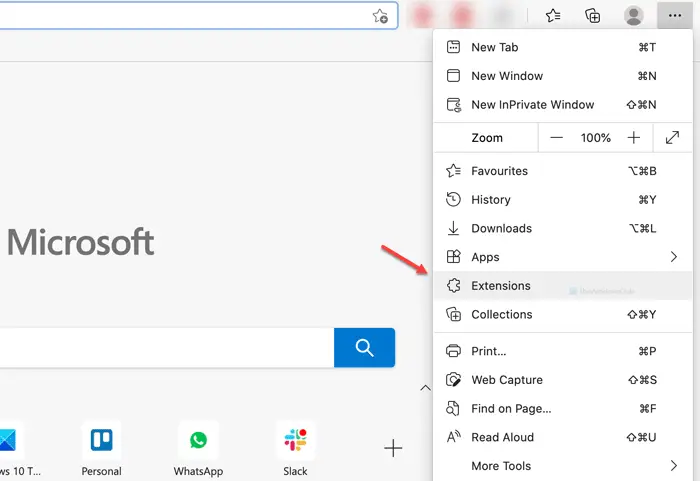 If you have installed tons of extensions in the Edge browser, you might end up getting a very slow browser. Even if you do not have many extensions, follow these steps as a malfunction or bug can cause the same issue. To get started, click the three-dotted Settings button in the Edge browser and select the Extensions option. Following that, disable all extensions at once and check if the problem remains or not.
If not, enable all the extensions, and disable one at a time. This way, you will be able to find out the malfunctioned extension.
3] Clear cache and browsing history
If the above-mentioned solutions are not working for you, clear the browsing history, cache, cookies, etc, for Edge on your macOS.
4] Reset Microsoft Edge
If you have a couple of changes in the Edge browser, it might cause the same issue. Mainly, if you have enabled various experimental features or flags, you will end up getting the same issue. Therefore, resetting the browser will resolve the problem.
Navigate to the following address inside the new Microsoft Edge browser:
edge://settings/reset
It will open a pop-up —Reset Settings. To reset, click on the Reset settings. It may take a while depending upon the volume of data your browser carries.
These are some of the working methods to solve the problem. Hope they help.
Windows user? Fix Microsoft Edge High Memory Usage in Windows 10.