Dying Light is one of the best zombie video games available right now. The graphics are great, and the same can be said about its gameplay. The folks at Techland have done a wonderful job with this title, and we hope they continue down that road with the sequel.
Now, if you are a long-time player of Dying Light, then chances are you've heard of Dockets. We must say that a Docket is not an important aspect of the game but having them can be useful. So, if you are a regular player of the game, then no doubt you'll want to equip yourself with some dockets very soon.
What are Dying Light Dockets?
Dockets were originally created to allow players to get a hold of top-tier weapons. In order to do this, players must locate secret codes or take part in community events. Furthermore, if you follow Techland's social media channels, you may get the chance to obtain some Dockets whenever the developer throws them around for kicks.
How to get the best Dying Light weapons
If you're still not sure what to do in order to have yourself some Dockets, then keep reading to learn of everything you need to know. We will begin first on how to get Dockets in the easiest ways possible.
Be a part of community events
Check the Steam community page
Keep up with Technlands social media pages
How to redeem Dying Light Dockets
1] Be a part of community events
For years now Techland has kept the Dying Light community alive with many activities. When you take part in community events, you can gain in-game items redeemable for Dockets. We've come to understand these events are a regular in the game, so hardcore players should have little problems here.
2] Check the Steam community page
Techland does not drop Dockets on the Steam Community page, but fans do. Whenever new codes are available, fans usually post them on the community page, so if you keep up with what's going on via Steam, you should find yourself in a great position to grab some coupons.
3] Keep up with Technlands social media pages
The next step to take here, and probably the best, is to follow Dying Light on all the major social media platforms. The company constantly releases new Dockets, so please take a look at the following pages:
Instagram page
Techland Instagram page
4] How to redeem Dying Light Dockets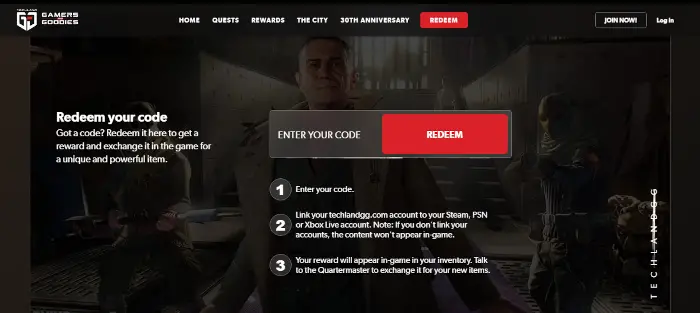 OK, so you've obtained one or more Dockets, so what to do if you want to redeem these Dockets in order to collect the best weapons? Here is what you need to do.
Visit the official Docket website, and from there, log in or create an account from the spot. Once you've entered your account, you must then link it with Xbox Live or Steam. After that, copy the coupon code into the available text box and hit the Redeem button.
Finally, visit the Quartermaster closest to you from within the game in order to redeem the in-game rewards. You should now get your hands on some wonderful weapons.
Can Dying Light Dockets expire?
Free codes usually expire within 14 days. So, as soon as Techland drops some, you must act with great speed to unlock new weapons before the coupon no longer works.