Inspired by Microsoft's next version of the Windows operating system, our TWC Author & TWCF Mod Lee Whittington has developed W8 Clock Logon Screensaver.
Update 1st May 2100: W8 Clock Logon Screensaver has been updated to v2.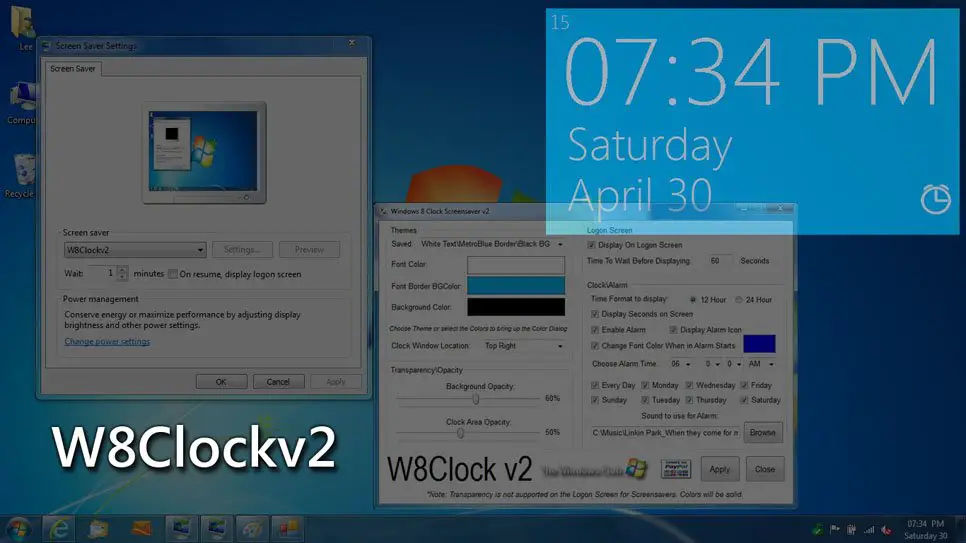 Features of the screensaver:
Displays Time\Day and Date
Use as Screensaver; has ability to apply to Logon Screen as Screensaver.
Transparency is not supported for Screensavers on the Logon Screen so W8Clock will display as solid color on the Logon Screen but for general use you have the ability of applying Transparency.
Added ability to use the Screensaver as an Alarm Clock. Use MP3, Wav, Midi and WMA audio files. Time will display as yellow when alarm goes off along with sounds playing.
Option to display seconds on screen or hide.
12 Hour or 24 Hour format for time.
Move Mouse or hit key on keyboard to shutdown application. The same applies for the Alarm Clock.
Detects Windows 7 x86/x64, to install to correct path.
Changes made in v2:
Change Font, Font Area Background and Background Colors using Themes or choosing custom colors.
Set Opacity for Screen and Font Area separately.
Set different positions for Font Area.
Set visible Alarm Icon when Alarm is Enabled.
Alarm icon shakes when set off.
Set color for Fonts when Alarm goes off.
Alarm does not disarm until screensaver is deactivated.
A couple of performance changes.
Known Issue in v2: Mini Preview does not display as there were was performance conflicts after adding support for dual Opacity between the background and font window.
Once you install you have option to have the setup to apply W8Clock as default Screensaver and open the Settings. If no settings are applied Default settings will be used.
You can preview the W8 Clock Logon Screensaver v2 or access it settings by opening Control Panel\Appearance and Personalization\Personalization\Screensaver.

If you wish to give feedback, please do so in the comments.
You might also want to check out our other exciting 50 odd freeware releases for Windows !