In this post, we will see how you can create a shortcut to launch your favorite screensaver in Windows 11/10/8/7. To launch your favorite screensaver in a click, you can create its shortcut on your desktop. To do this, you will have to first search for the screensaver in the System32 folder by typing *.scr in the search bar.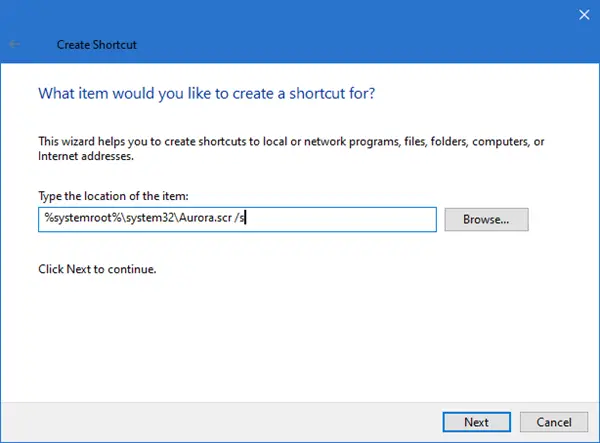 Create a shortcut to launch Screensaver
Once you have done that, right-click on your desktop. Select New > Shortcut. Copy-Paste the following into the location box:
%systemroot%\system32\Aurora.scr /s
This assumes that you want to create a shortcut for the Aurora.scr screensaver. You need to use the name of the screensaver that you want.
Then click Next. In name enter Aurora, and click on Finish.
Give it an appropriate icon. Copy or Cut-Paste your new shortcut wherever you want.
Change screensaver state using FlipSS
To change any screen-savers state in a click, you can also try FlipSS. It is a utility which lets you, stop the screen saver, if it is running when the program switches the state to 'off', and manually start the screen saver. The Command-line options are:
This can prove to be useful if you are burning CDs or watching videos and don't want the screen saver to start up suddenly.