There were times when computer monitors used to suffer from image burn-in issues caused by showing the same image for a long period of time and people used to install a screen saver to avoid the issue. The computer screens today no longer face the burn-in issues, but people still use the screen saver on their computer systems for fun's sake. Windows 11/10 comes with six built-in screensavers. Let us see how you can customize screensavers in Windows 11/10.
Read: Are Screensavers necessary and still needed.
Screensaver Settings in Windows 11/10
You can get to your screen saver settings directly by typing 'Screen Saver' in the taskbar search box in the lower-left corner of your system. Click on 'Change Screen Saver' and it will take you the Screen Saver settings right away where you can adjust the settings according to your own preferences.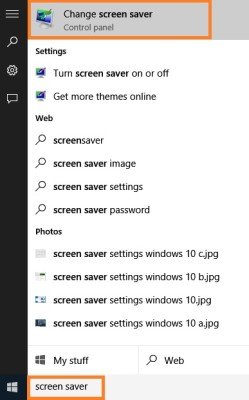 Alternatively,  right-click on your Windows 10 desktop, and select Personalize to open Personalization settings. Next click on Lock screen in the left pane.
Scroll down the Lock Screen settings and click on Screen Saver Settings. The following window will open. Here you can adjust the settings according to your preferences.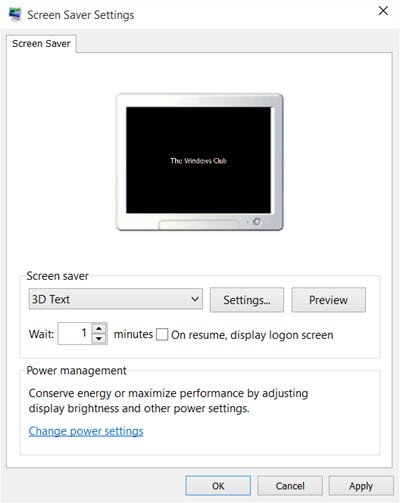 By default, Windows 11/10 offers the following six screensavers – 3D Text, Blank, Bubbles, Mystify, Photos and Ribbons – nothing new here.
Select the screensaver from the drop-down menu and change its defaults Settings, if any are available.
For instance, the 3D Text screensaver lets you customize the text as well as a few other options.
The Photos screensaver lets you display your favorite photos as a screen saver.
Once you are done, click on save and exit.
Create Screen Saver Settings Shortcut
If you access the screensaver settings frequently, you can create its desktop shortcut as follows: However, it is easy to change the settings but if you change your screen saver often, it would be better to create a Screen Saver Settings shortcut on your desktop.
To create the shortcut, you have to right-click on your desktop and click on New > Shortcut.
Type control desk.cpl,,@screensaver in the location space in the wizard.
Click Next and give a name to your shortcut. Click Next and you are done. Give it a suitable icon of your choice.
Use this shortcut to change or adjust your screen saver settings whenever you want, quickly.
You can also create a shortcut to launch or change the Screensaver state for a specific screensaver.
On a related note, take a look at this post. It shows you how you can display System Configuration details on your Windows Desktop Wallpaper.