Here is a tutorial for you to download subtitles for movies using the right-click context menu in Windows 11/10. Subtitles for movies are very important as they make movies and videos accessible to a larger audience who understand different languages. There are multiple subtitle downloader websites from where you can download videos. But, that requires a lot of hard work. You have to manually search for websites, then search for subtitles for movies, and then download them. What if you can download subtitles from movies right from the context menu of video files? Sounds convenient, isn't it?
In this article, we are going to show you how you can download movies' subtitles from the context menu using a free software. All you have to do is click on a dedicated option from the right-click menu and the software will search and download subtitles for you. It is as easy as it sounds. Let's check out the freeware and steps now!
Download Subtitles for Movies using context menu in Windows 11/10
We are going to use this free subtitle download software called SubiT. Here are the primary steps to download subtitles for movies using the right-click context menu in Windows 11/10:
Download and install SubiT on your PC.
Go to the folder where you have saved the source video file.
Select and right-click on the video.
Choose the SubiT option from the context menu.
Wait for some time and an SRT subtitle file will be downloaded to the source folder that you can further use.
Let's check out these steps in detail!
Firstly, download SubiT and then install it on your Windows 11/10 PC. As you install this tool, it will be added to the context menu of video files of supported formats.
Now, go to the folder that contains the input movie file for which you want to download subtitles. Select the video file and right-click on it and from the opened context menu, select the SubiT option.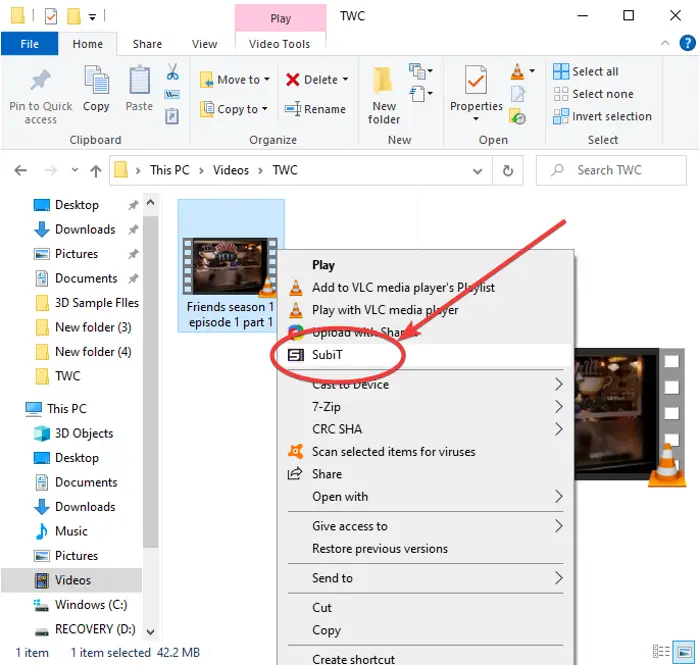 As you click the above option, the GUI of SubiT software will open up showing the subtitle downloading process. When the subtitles downloading process is finished, an SRT file will be downloaded and saved to the same folder as the source folder.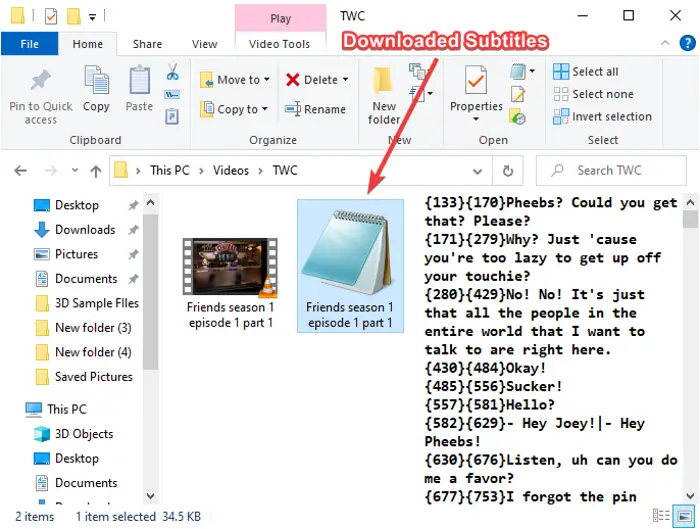 You can then add the downloaded subtitles to the video file or use the subtitles as you want.
There are some more features of SubiT that we would like to mention; let us checkout!
Features of SubiT:
Here are the key features of SubiT software that allows you to download subtitles from the context menu:
By default, it is added to the context menu of 4 popular video formats including MP4, MKV, AVI, and WMV. If you want to add it to more video files, launch SubiT GUI from the Start menu or search box and open its Settings option.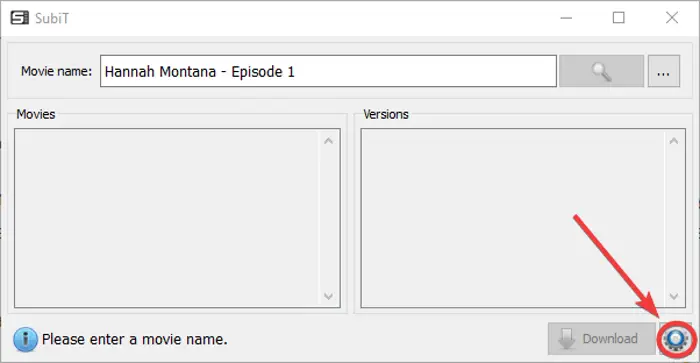 Then, go to the Context Menu tab and enable the Associate extensions checkbox, and then click the Add button to enter the video file extension you want to add.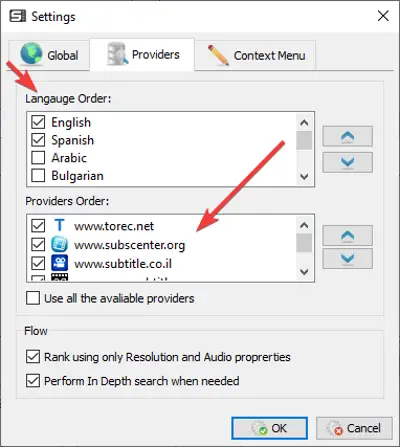 It fetches and downloads accurate subtitles from various online subtitle downloader sources including OpenSubtitles.org, addic7ed.com, etc. You can manually select the sources to download subtitles from by going to its Settings menu.
It lets you download subtitles in various languages including English, Spanish, Arabic, Hebrew, etc.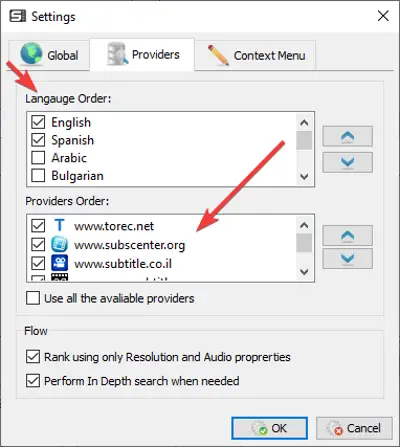 You can manually search for movie subtitles by entering the movie name in the search field and pressing the Enter button. It shows results in the Movies section. Select the most appropriate result and you will see related subtitles that you can save by clicking on the Download button.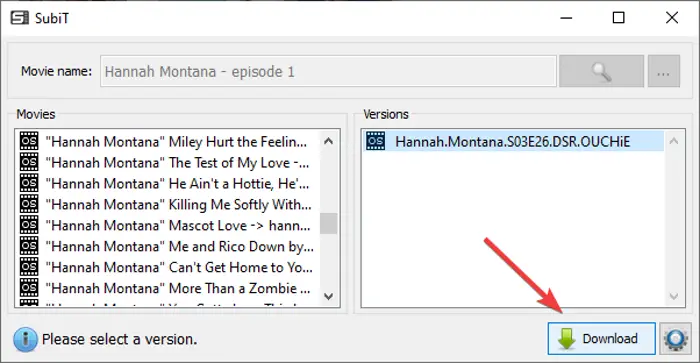 If you want to use this software, You can download it from subit-app.sourceforge.net.