The VLC media player is one of the top media players, and it is available for multiple platforms at no cost. If you often watch movies offline, VLC media player seems to be an excellent option since almost all the standard media files can be played in VLC media player. Having said that, if you watch many foreign movies, you might need subtitles. While there are multiple resources where you can find subtitles in your language, you can also download subtitles in VLC – and that means you do not have to search for a suitable subtitle for your movies.
Download subtitles in VLC media player
This can be done with the help of an extension called VLsub, which is free and you can download it for the latest version of the VLC media player as well. You need to download the extension from here and then add the extension to VLC. This extension will search and download subtitles from opensubtitles.org using the hash of the video currently playing or its title.
Now, open a movie VLC media player and then go to View > VLsub.
There, you will get two options-
Search by hash
Search by name
Also, if you have added a TV series, you can include the search and episode name.
After using one option, you will find subtitles like this-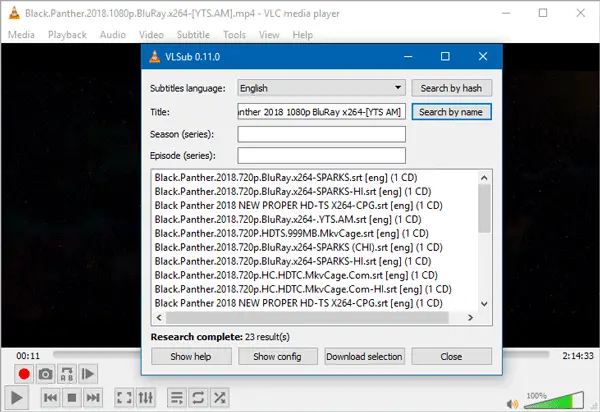 Choose the most suitable one and click the Download selection button.
That's all!
Now the subtitle will be added automatically.
Read next: Adjust, delay, speedup Subtitle Speed in VLC Media Player.